Ms Ivis Chung
&nbsp PRESENTING
Strategies and experience sharing for promotion of outcome driven allied health services
Allied health services play a pivotal role in the rehabilitation of patients affected by different diseases. At the Hospital Authority of Hong Kong, we are committed to providing quality and timely allied health rehabilitation services for public patients. Whilst data on patient needs and rehabilitation outcomes are essential to provide information and knowledge that support provision of appropriate care and quality improvement, understanding the importance of clinical outcome measurement and reporting will help service providers achieve excellence.
The presentation covers the strategies and processes adopted by the Hospital Authority for promoting the quality of allied health services in stroke and hip fracture rehabilitation. Disciplines involved were clinical psychology, dietetics, medical social services, occupational therapy, physiotherapy, prosthetics and orthotics and speech therapy. The buy-in process involved the setting up of platforms to discuss and steer the project development. There was a lengthy engagement process to agree on pre-defined minimal data sets with reference to international clinical guidelines and locally validated measures. The development of information technology platforms for data capturing, retrieval and reporting is also very important.
The project experience could be used as a prototype for further quality improvement in other service areas.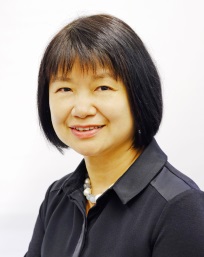 Ms Ivis Chung has taken up the Chief Manager (Allied Health) position of the Hospital Authority (HA) in Hong Kong since 2008. She began her career as a physiotherapist at Caritas Medical Centre, Hong Kong and had taken up various roles and positions including clinical, student education and department management during the period of service. She has a Master in Health Services Management from the University of New South Wales, Australia and a Master in Public Administration from the University of Hong Kong. She has been serving in various professional boards and committees under the Hong Kong Special Administrative Region government.
Under the current position, she is the grade head of 16 Allied Health (AH) professions in the HA, namely audiologist, clinical psychologist, diagnostic radiographer, dietitian medical social worker, medical technologist, optometrist, orthoptist, occupational therapist, physicist, physiotherapist, podiatrist, prosthetist and orthotist, radiation therapist, scientific officer and speech therapist, with a total staff strength of around 5,600. Her key roles are providing advice to the organisation on subjects relating to AH in support of the HA objectives and leading the development of the professions.