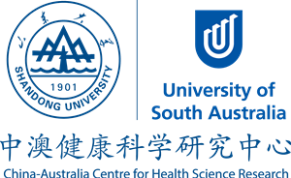 News and events
Fourth Joint Symposium of the China-Australia Centre for Health Sciences Research
The fourth symposium of CACHSR is scheduled for Nov 10, 2017 in Adelaide. We are looking forward to hosting Shandong University delegation and other guests.
Third Joint Symposium of the China-Australia Centre for Health Sciences Research
A 15 member UniSA delegation visited Shandong for the third China Australia Symposium in Health Science Research, hosted by Shandong University on Nov 7, 2016. The delegation was led by Prof Robert Vink. Pro Vice Chancellor, Health Sciences. The symposium was attended by around 100 participant from University and industry. The delegation also travelled to Zibo, an industrial town around 100 KM from Jinan and visited SDU Zibo Biomedicine Research Centre, and Shandong Xinhua Pharmaceutical company.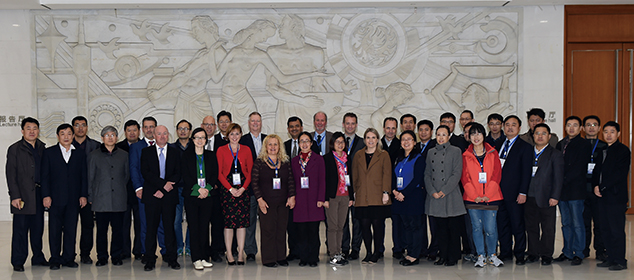 Second Joint Symposium of the China-Australia Centre for Health Sciences Research
The Second Joint Symposium of the centre was held at UniSA in Oct 2015, providing the opportunity to review the progress of joint health research projects established through UniSA's strong relationship with Shandong University. A 16 member Shandong University delegation visited UniSA, including two PhD students who were working in UniSA laboratories as visiting scholars.
The symposium builds on a commitment to undertake one scientific meeting every year, alternating between Shandong and Adelaide, with this year's event being attended by around 65 people including UniSa partners, research teams, and senior staff. The symposium is an opportunity to review the progress of projects, meet research partners and teams and network. Most projects reported research outputs in the form of joint publications and conference presentations.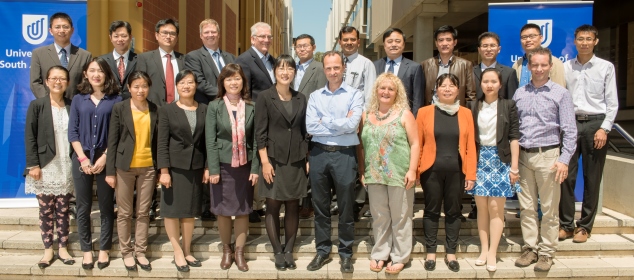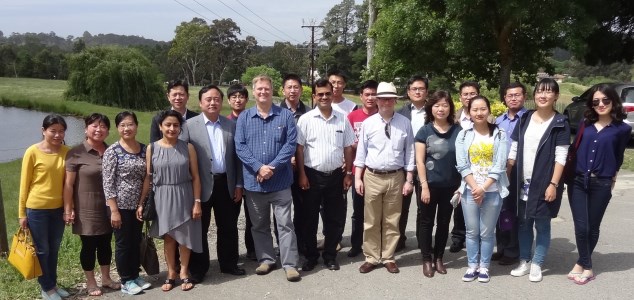 UniSA Delegation Visit and Joint Symposium
A UniSA delegation (Prof Bob Vink, Prof Pat Buckley, Prof Cory Xian, Prof Xin-Fu Zhou, Prof Shudong Wang, Dr Rietie Venter, Dr Dominic Thewlis, Dr Kristen Bremmell, Dr May Song, and Prof Sanjay Garg) visited Shandong University, China to participate in the First Joint Symposium of China–Australia Centre for Health Sciences Research (CACHSR), organized by Shandong University and held on November 10, 2014. Symposium turned out to be a good opportunity for collaborators to network and share research findings from ongoing research projects. UniSA will host the second joint symposium in Adelaide in Oct 2015.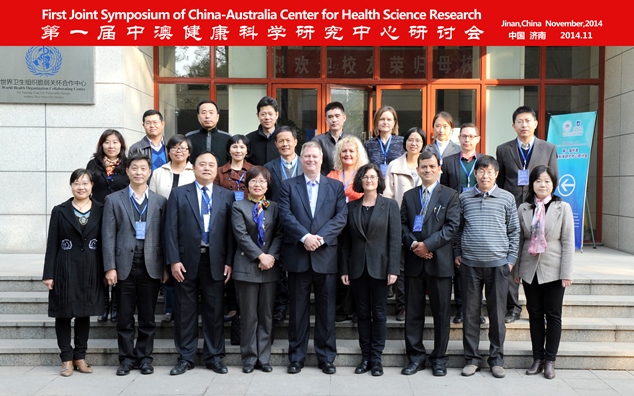 China Australia Centre for Health Science Research opened by Premier Weatherill
The second of UniSA's strategic joint centres with prestigious Chinese universities has been given its official opening in Jinan, Shandong Province, by Premier Jay Weatherill on his recent official visit to China.
The China-Australia Centre for Health Science Research, a joint initiative of UniSA and Shandong University was opened by Premier Weatherill and Vice Governor of Shandong Province Xia Geng at a plaque-unveiling ceremony at which UniSA Vice Chancellor and President Prof David Lloyd and Chairman of Shandong University Council Mr Zhu Zhengchang were present. The event was positioned as central to the sister state relationship between Shandong Province and South Australia.
The Centre will develop research, teaching and staff and student exchange collaborations between Shandong University and UniSA in pharmacy and drug development, nursing, public and population health and other areas, combining the strengths of the two universities to address shared health challenges in Australia and China. Two workshops have been held to develop the scope of the Centre: one during the visit of a UniSA Health Sciences delegation to Shandong in October 2012 led by Pro Vice Chancellor Health, Prof Allan Evans; and the second during a visit to UniSA by a delegation of senior health deans from Shandong University, led by Vice President Lou Hongxiang, himself a leading pharmacy researcher.
Joint Health Research Center between Shandong University and University of South Australia
The Joint Health Research Centre (JHRC) is an international comprehensive collaboration research institution between Shandong University (SDU), a top "985" group Chinese University and the University of South Australia. With a multi-disciplinary stretch, the JHRC is committed to resolving the common challenges faced by China and Australia in health.
The JHRC will focus on academic research, consultancy and training, involving such disciplines as pharmaceutical sciences, medicine, public health and nursing. Its aim is to study a series of core health problems in China and South Australia. The JHRC will also contribute to the faculty and graduate student mobility, and joint education and training of undergraduate, graduate and doctoral students. In the future, the JHRC will develop to involve scholars from various international universities to conduct international innovation programs. Initially, the Centre will focus on medicinal chemistry and drug development, but will also in time encompass nursing and public health issues. There will be a strong focus on personalised medicine in the Centre's work in the future.
A delegation from the Division of Health Sciences led by Pro Vice Chancellor Professor Allan Evans and including Prof Shudong Wang, Prof Carol Grech and Prof Roger Eston and accompanied by Pro Vice Chancellor International & Development Nigel Relph visited Shandong University in October to hold a workshop on research themes to be included in the Centre's program. It was agreed that jointly supervised PhD students supported by both universities and by the China Scholarship Council would be a good vehicle for collaboration.