Women's voices break through the silence on prison life
November 20 2014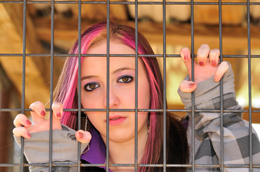 With recent Australian Bureau of Statistics figures showing a sharp increase in the number of Australian women in prison, women's prisoner support group, Seeds of Affinity and The Bob Hawke Prime Ministerial Centre at UniSA are joining forces to present a rarely accessed snapshot of the lives of criminalised women, focussing on how violence has played a key role in thwarting their aspirations.
A special Q&A event - Violent Lives and Silenced Voices - on November 20 in the Allan Scott auditorium at UniSA's City West campus, offers the opportunity to hear from women who have experienced the prison system along with those who work on behalf of women in prisons and other experts and advocates.
Renowned barrister and patron of Seeds of Affinity, Heather Stokes, will facilitate the event which will include Seeds of Affinity founder, Anna Kemp; Aboriginal mental health educator Katrina Power; Department of Corrections Advisor on Women, Bernie McGinnes and well-known women's prison activist and founder of Sisters Inside Inc, Debbie Kilroy.
Seeds of Affinity coordinator Linda Fisk says up to 98 per cent of women in prison are already survivors of intimate or systemic violence.
"The number of women incarcerated in Australia has grown by 48 per cent between 2002 and 2012 yet the vast majority of them are jailed for non-violent offences," Fisk says.
"So what you see is a picture of marginalised women, often women who have suffered physical and sexual abuse in their lives, women who have low self-esteem and little opportunity, placed in a patriarchal and punitive system that does little to support their rehabilitation.
"For these women prison brings more repression, promotes lower self-esteem and surrounds them in a culture of punishment and humiliation – everything they don't need."
Fisk says there are enormous opportunities for time spent in prison to become life-building and affirming if the right programs are introduced.
"Many of these women need only a path to self-confidence and education to turn their lives around, beyond the very basic literacy and numeracy programs, which are the main emphasis of the prison system.
"They need to be made aware that it is possible to achieve more and have access to education that will support future achievement.
"The stories that will be explored at this event will document the realities of prison life for women and explore how the cycle of violence and disempowerment for many women has led to a criminalised life and one which, given different opportunities could be turned around."
And there could be no better example of what is possible than panel member at the event, Debbie Kilroy OAM, who has served a prison sentence and later gone on to achieve academic success as a social worker and criminal lawyer.
"Debbie's transformation is inspirational – particularly for women who find the transition from prison to a life beyond the walls so daunting," Fisk says.
Criminal barrister, Patron of Seeds of Affinity and host for the event, Heather Stokes says her long career in the criminal justice system has convinced her that many women in prison are more victim than perpetrator.
"Of course we have some serious female offenders inside, but through the stories that we will share at this event, it will be clear that many women behind bars are marginalised, misunderstood and disadvantaged," Stokes says.
"The violence and sexual abuse they have often experienced as children and young women, their lack of access to the support and care most people take for granted and the trauma they experience because of compounded disadvantage, makes the road to a normal life very tough indeed.
"Through the stories we share I hope we will encourage more thought and planning to improve social and educational support for women prisoners both during and post sentence and the introduction of more respectful, human rights-based policy development in the penal system."
In addition to insights from the panel, the Seeds of Affinity women will recount often confronting stories of lives lost to violence and intergenerational family abuse and share personal insights into some of the degradation experienced by women in prisons.
This event is being supported by White Ribbon Day.
Reporters are welcome to attend the event and interviews with former prisoners and some of their supporters and advocates can be arranged prior to the event.
Media contact: Michèle Nardelli office: +61 8 8302 0966 mobile: 0418 823 673 email:Michele.nardelli@unisa.edu.au