Vale Sir Terry Pratchett, Doctor of the University
March 13 2015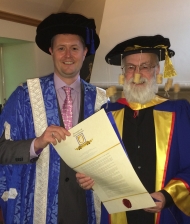 It is with great sadness that the University of South Australia received the news of the death of Sir Terry Pratchett, a much admired Honorary Doctor of the University.
Sir Terry was honoured and welcomed into the University community in 2014 in acknowledgment of his lifetime contribution to literature and society.
Pratchett was the UK's best-selling author of the 1990s with sales of over 85 million books worldwide in 37 languages.
A master of the fantasy universe, his Discworld series commencing with The Colour of Magic in 1983, and carrying through in 40 books, has sold more than 80 million copies.
Vice Chancellor Professor David Lloyd said the world had lost one of its most creative fantasy writers.
"With a great deal of dedication, passion and a razor sharp mind, Sir Terry created some of the most imaginative, witty, insightful and accessible science fiction works of the 20th and 21st centuries," Prof Lloyd said.
"Sir Terry always maintained it was better to light a flamethrower, than curse the darkness and he never let adversity - his disease - get in the way of doing what he loved most.
"He was a powerhouse of creativity, inspiring readers and writers alike to consider life in new ways, to look for the absurd and ridiculous in human behaviour and to value our indefatigable human resilience.
"He will be greatly missed by all those who loved him and the many millions who loved his books."
Since being diagnosed with a rare form of Alzheimer's disease in 2007, Sir Terry became a strong campaigner in the search for a cure and better treatment methods for the disease donating more than $1million to the Alzheimer's Research Trust.
He has been honoured by more than 20 Universities for his achievements and won many prizes for his work as a writer – the Carnegie Medal and the British Science Fiction Award - and more recently as a filmmaker - 'Best Documentary Emmy' at the International Emmy Awards, for the television program: 'Choosing to Die', which focused on the topic of assisted suicide.
He was an Adjunct Professor at Trinity College, Dublin, Ireland, with a role in postgraduate education in creative writing and popular literature.
Media contact: Michèle Nardelli office: +61 8 8302 0966 mobile: 0418 823 673 email: michele.nardelli@unisa.edu.au