UniSA's Future Industries Institute leads world-class research
December 04 2015
Excellence in Research for Australia ratings announced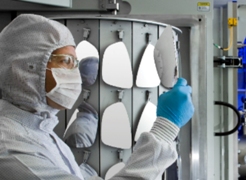 The University of South Australia's new Future Industries Institute (FII) is an epicentre for world-class research, according to the latest Excellence in Research for Australia (ERA) results.
With UniSA research in the fields of physical chemistry, resources engineering and extractive metallurgy and materials engineering, applied mathematics, environmental science all evaluated at the highest score of five, UniSA Deputy Vice Chancellor: Research, Professor Tanya Monro says industry partners can be certain the work of the FII will be some of the best in the world.
"UniSA's FII has in place world experts in their fields who are tackling big challenges such as sustainable minerals production and mining, the development of novel solutions for energy generation and storage, environmental remediation and monitoring, diagnostics and healthcare," Prof Monro says.
"Providing truly transformational technologies and solutions for these fields, requires not just the capacity to tackle the near-term applied research questions – even more critical is the requirement for long-term fundamental research that is of the highest quality and is aligned to real world challenges.
"Our industry collaborators and partners know that the expertise FIIs brings to projects and problems is the some of the best globally.
"The Institute's mission is to seed the creation of the industries of tomorrow and to support the transformation of the industries of today by partnering with them to deliver disruptive solutions to the challenges they face."
In total, UniSA achieved the top "5" rating for research excellence that is "well above world standard" in 16 research fields, an eightfold improvement in 5 ratings since the last time evaluation was performed in 2012.
They include research into new understandings and treatments for cancer and diabetes, health, diet and exercise, work in psychology and neuroscience, pharmacology and nursing.
UniSA Vice Chancellor Professor David Lloyd says the results reaffirm the University's commitment to undertaking research that is both excellent and relevant.
"We have taken on board the Government's agenda to advance knowledge in key areas and we are delivering in those areas – including soil and water preservation and management, health and mental health, environmental change, energy and resources and cybersecurity," Prof Lloyd says.
"We are building the expertise to make the kind of contribution that transforms society by supporting better outcomes for all Australians and the development of new industries and a more prosperous nation.
"In Australia universities have a pivotal role in powering enterprise through the development of new knowledge and at UniSA we see this as central to our research culture."
Research from UniSA's Future Industries Institute
Reflection on a warmer planet
Having delivered the first fully plastic car mirror to the world using highly sophisticated innovations in thin film coatings, researchers in advanced manufacturing at the FII are using their knowledge and expertise to support innovation in the renewable energy sector.
Their latest project supports the design and manufacture of better heliostats for concentrated solar thermal arrays.
Heliostats are highly reflective mirrors able to focus sunlight onto collectors, which convert the sun's energy to electricity.
Strand Leader for Advanced Manufacturing Professor Peter Murphy says just like car mirrors, mirrors for heliostats need to survive some of the most extreme weather conditions and massive doses of UV light, all with the potential to cause major degradation to materials.
"Working heliostats reflect sunlight onto a tower and via a heat transfer process they can create electricity. The more light that is reflected the more efficient they are, but they get dirty and contaminated in the field – if you can stop airborne contamination sticking to them, you can improve their efficiency," Prof Murphy says.
"Our challenge has been to develop materials that resist contamination."
Working at UniSA and as head of research at Heliostat SA, Prof Murphy has helped the company to deliver new age heliostats worth about $1 million to Japan.
"We are in the process of engaging a broader research plan with funding that will take us on a journey of creating more innovative products designed to support a more efficient solar industry," Prof Murphy says.
Media contact: Michèle Nardelli office +61 883020966 mob 0418823673 email michele.nardelli@unisa.edu.au