UniSA researchers win support to stem the tide of dementia
October 22 2015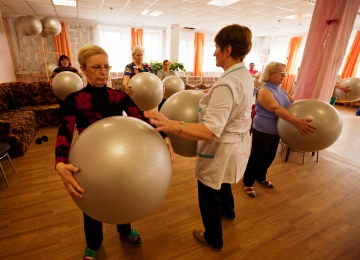 Three UniSA researchers, Drs Ashleigh Smith, Tuan Anh Nguyen and Lisa Kalisch Ellett, have been awarded fellowships under the NHMRC-ARC Dementia Research Development Fellowship Scheme to explore new ways of preventing and treating dementia.
Total funding for the three Fellowships is more than $1.55million.
UniSA Deputy Vice Chancellor: Research and Innovation, Professor Tanya Monro says research into healthy ageing is a critical priority for Australia.
"We are at a demographic tipping point. Children born in the post WWII boom are well into retirement," Prof Monro says.
"The size of this group means that innovations that delay or reduce rates of dementia will have a big impact.
"UniSA is committed to developing research capacity in this space. It is great to see new generations of researchers taking on this health challenge and winning support for their important work."
With research interests in brain plasticity and exercise science, Dr Ashleigh Smith is hoping to learn more about the power of exercise to slow the progression of dementia.
"The benefits of exercise on brain health and cognition have been widely reported but I want to develop an accurate measurement of how much exercise is useful and how it is working to help reduce the progress of dementia," Dr Smith says.
The fellowship will support Dr Smith to employ cutting-edge technology to measure physical activity and fitness, cognitive performance, excitability of movement-related brain regions and brain blood flow to study the underlying mechanisms that pinpoint how exercise and physical activity modifies brain circuits in older adults already living with cognitive impairment.
Working with Helping Hand, the Aged Care Homes Group, the Council on the Ageing and Alzheimer's SA, Dr Smith says she working towards developing an enjoyable and sustainable, evidence-based kind of exercise prescription that delivers improvements to brain health in older people.
Dr Lisa Kalisch Ellett will be examining how the use of common medications such as antidepressants and sleeping tablets (benzodiazepines) may affect cognition in older people.
"Several recent studies have shown a link between the use of commonly prescribed medicines and increased risk of dementia or cognitive impairment," Dr Kalisch Ellett says.
"But they haven't been comprehensive. I want to work out which medicines in what doses have an impact over a longer period of time."
Using pharmacoepidemiological research methods, Dr Kalisch Ellett will undertake longitudinal cohort studies.
Analysing administrative claims data Dr Kalisch Ellett will be searching for a better understanding of the risk of incident dementia associated with anticholinergic (or sedative) medicines and the risks of worsening the condition in patients who already have dementia.
"I also want to get a measure of the residual impact of these medications and see if once the patient stops taking or reduces the amount of sedatives taken, does their cognition improve."
Fellowship recipient Dr Tuan Anh Nguyen's investigation focuses on the possible links between some medications and the onset of dementia and related neurodegenerative disease.
"We know that up to 406 drugs, including 225 medications currently marketed in Australia, have 'confusional state' listed as a side effect in product information or reported as part of post-marketing surveillance reports," Dr Nguyen says.
"Data from around the world also highlight that the potential for adverse events associated with drug-related confusion are quite high.
"What we don't have a good analysis of is the contribution that drugs with 'confusional state' as a potential side effect, have on the development of dementia.
"I'll be using traditional and novel methods to analyse corroborating data sources to develop a comprehensive list of the probable drugs inducing cognitive impairment."
Using local and international data sets, literature reviews, results of clinical trials, and longitudinal epidemiological studies, Dr Nguyen's goal is to fill the gaps in safety knowledge around regularly prescribed medicines and identify which medications and under what circumstances they present the highest safety risks for drug-induced cognitive impairment or dementia.
Dementia research is strongly aligned with two of UniSA's core research themes – Healthy Futures and An Age-Friendly World.
Media contact: Michèle Nardelli office +61 883020966 mob 0418823673 email michele.nardelli@unisa.edu.au