UniSA materials scientist picked as Tall Poppy of the Year
August 19 2013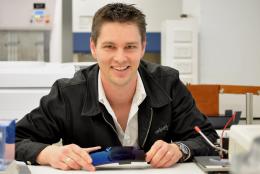 University of South Australia researcher Dr Drew Evans has been named the 2013 South Australian Tall Poppy of the Year at the Science Excellence Awards SA held on August 16.
Based at UniSA's Mawson Institute, Dr Evans designs thin film coatings for common surfaces. The senior research fellow played a key role in developing a lightweight, shatterproof plastic car mirror, which is currently being adopted by car manufacturers around the globe.
The Award acknowledges Dr Evan's ability to combine cutting edge research in the field of advanced materials with a passion for science communication. He has been involved in a number of community engagement initiatives, including science and maths outreach programs for high school students.
UniSA's Deputy Vice Chancellor and Vice President: Research and Innovation, Professor Richard Head says the Tall Poppy campaign highlights the innovative research taking place in South Australia and puts a spotlight on the early career researchers leading the charge.
"The Tall Poppy Awards recognise the significant achievements of some of the State's best young researchers. They are commended not only for their word-class research but for sharing their knowledge of and enthusiasm for science with others through engagement with the wider community," Prof Head says.
"We are delighted that Drew has been selected from a large and talented pool of South Australian researchers to be named the best and brightest young scientist in the State.
"This is a great achievement and we are looking forward to Drew playing a leading role in the future of science research at UniSA and in Australia."
Dr Luke Grzeskowiak, who completed his PhD at UniSA's Division of Health Sciences, was also recognised at the Science Excellence Awards SA, winning the PhD Research Excellence (Health and Medical Sciences) category. His research focuses on the feasibility of using routinely collected health data to examine long-term effects of medication use during pregnancy on the health of the offspring in later life.
UniSA's Dr Carol Maher, Dr Dominic Thewlis and Dr Roger Yazbek also received South Australian Tall Poppy Awards at a separate ceremony last month.
Media Contact
Rosanna Galvin office (08) 8302 0578 mobile 0434 603 457 email rosanna.galvin@unisa.edu.au