UniSA forms strategic alliance with Barossa Co-op
September 02 2014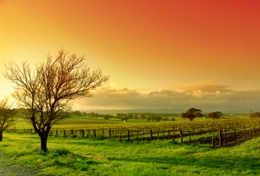 A strategic alliance between the University of South Australia and the Barossa Co-op is set to enhance business in one of Australia's oldest and finest food and wine producing regions.
UniSA's Ehrenberg-Bass Institute for Marketing Science has entered into a long-term collaboration with 'the Co-op' to help the community retail group better understand its customers' needs, provide its customers with improved products and services, and help to market its planned new supermarket development in Nuriootpa.
Renowned internationally for its marketing expertise and having influenced the practice of some of the world's most successful companies, the Ehrenberg-Bass Institute is keen to bring its global knowledge 'home' to benefit South Australia.
Senior Research Associate Dr Svetlana Bogomolova – who initiated the Barossa Co-op collaboration – says the Institute is excited to share its cutting-edge knowledge with businesses in the Barossa Valley.
"This alliance will help local businesses to deliver even better products and services to its customers, while doing it smarter and more efficiently," says Dr Bogomolova, who has recently joined the Barossa community as a resident of Eden Valley.
"Our aim is to give a stronger voice to the consumer. The best results are achieved when producers and retailers listen to their customers."
Barossa Co-op Chief Executive Graeme Longmuir says the alliance will draw on UniSA's world-class research to help better serve Co-op members. The Barossa Co-op – with over 17,000 members and employing 350 staff – is ranked among the top 50 of Australia's 1800 co-operatives.
Mr Longmuir says the partnership will also create opportunities for Co-op employees and other Barossa businesses to gain professional education and training with UniSA.
"There are plans to run business seminars on a wide range of topics including consumer behaviour, branding, pricing and media," he says.
"First up, though, UniSA researchers will study our members' opinions about even better facilities and services they would like to see in the new mall and supermarket."
Researchers from the Ehrenberg-Bass Institute will be seen around the Barossa Co-op stores – which include Foodland, Mitre 10, Betta Electrical, Sports Power, Toyworld and much more – from the end of August.
"Local shoppers can expect to see our researchers in the mall, asking for help to test technology and equipment or even take part in a survey. All participation in our research is totally voluntary and any information collected will be kept strictly confidential."
UniSA Business School Pro Vice Chancellor (Business and Law) Professor Marie Wilson says she looks forward to the collaboration helping the Barossa Valley become a centre for business excellence.
"This is a truly innovative collaboration between the University and SA business," Prof Wilson says.
Contact for interview: Dr Svetlana Bogomolova office 08 8302 9170 mobile 0414 087 652
Media contact: Kelly Stone office 08 8302 0963 mobile 0417 861 832 email Kelly.stone@unisa.edu.au