UniSA and Basketball SA launch High Performance Partnership
February 06 2015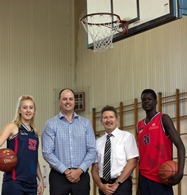 The University of South Australia and Basketball SA have formed a new partnership set to give the State an edge in developing both elite athlete performance and research knowledge about elite level sports education and training.
The partnership will provide an opportunity for UniSA staff and health science students to become an integral part of the basketball program, learning from the experience of interacting with athletes in high performance environments.
The agreement coincides with the announcement of a new dedicated PhD scholarship to be funded by Basketball SA and supervised by top sports researchers at UniSA - Dr Grant Tomkinson and Professor Roger Eston. The scholarship will underpin new research into high performance player development, training and talent identification.
UniSA Head of the School of Health Sciences, Professor Roger Eston says the relationship is invaluable for students and researchers at the University because it offers a real world setting to investigate the critical health and anthropometric factors that influence high performance in athletes.
"We also expect that the research undertaken as part of the high performance program will have invaluable flow-on benefits for Basketball SA members and clubs because we can share knowledge about best practice in training and athlete development.
"It is an exciting mutually beneficial partnership that should spearhead real innovation and new knowledge for the sports community."
Under the partnership agreement high performance athletes, including basketball athletes in the National Intensive Training Program (NITP) from ages 14 to 20, will have access to facilities and services that are usually reserved for those in professional sports.
That includes the indoor stadium, new specialist gymnasium and pool at UniSA's Magill campus, but also the full range of UniSA's professional sports science services enhancing a holistic development for young athletes on the high performance path.
Basketball SA CEO Mark Hubbard says he is thrilled with the new partnership.
"This aligns perfectly with our goal of establishing effective partnerships to assist with the provision of quality daily training environments and support services," Hubbard says.
"The program that is being developed will provide greater opportunities for South Australian athletes to reach their full potential, with the ultimate aim of becoming national athletes representing the Australian Opals and Boomers.
"We know that UniSA is not only one of the leading national universities, but has an exceptional reputation in sport and health science research.
"Its commitment to high quality research in sports science is invaluable and ensures our High Performance program will be successful and sustainable. We look forward to developing and strengthening our relationship with them over the coming years."
The partnership with Basketball SA builds on the significant alliances UniSA has to develop depth of knowledge and research expertise in sports science and elite performance. UniSA forged and agreement for a high performance partnership with Port Power in 2014.
Media contact: Michèle Nardelli office: +61 8 8302 0966 mobile: 0418 823 673 email: michele.nardelli@unisa.edu.au