Tackling the big issues with little corellas
November 09 2015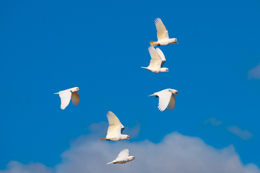 They travel in large flocks and they can really make some noise. They don't mind helping themselves to your trees, crops, and sometimes even your electricity wires.
As irritating as that may sound, the perpetrator of these small "crimes" - the little corella - is also treasured as a native Australian parrot.
Finding ways to live with the little corella is part of the latest citizen science project UniSA is running in collaboration with the Department of Environment, Water and Natural Resources (DEWNR), the Local Government Association (LGA), Flinders University, Michigan State University, and the councils of Alexandrina, Flinders Ranges, Gawler, Marion, Mount Barker and Salisbury.
Project leader Dr Philip Roetman says that we have divided views about little corellas and how they should be managed.
"We're understandably proud of our unique native birds, and many people love seeing local species in their backyards" Roetman says.
"But as many people will tell you there is a dark side – little corellas can flock in their thousands, they can cause enormous damage to trees, buildings and ovals. They congregate on houses and farms, they can make a mess, and be frustratingly loud.
"Over the last few hundred years we've changed the landscape and created more areas that little corellas like. Through this project our aim is to discover better ways to manage little corellas that are now abundant and problematic in some areas."
Dr Roetman says he is hoping to get strong involvement with the project because information provided by the community will help to identify where problems with little corella are most severe and generate new ideas on how to mitigate the problems.
"Community participation can be as simple as answering an online survey, but we are also looking for some members of the public to get more involved.
"This is an innovative project, where people can become involved in each step of the research process: proposing ideas for what makes particular sites problematic, designing a program and collecting data to test the ideas, and workshopping the results," he says.
Mike Greig, a Senior Ecologist for abundant species at DEWNR says the project promises to bring together a wealth of relevant information about the little corella.
"Citizen Science projects like this one are of enormous benefit because they give us broad and relevant information that would otherwise be difficult to collect," Greig says.
"I know that many people have been involved in little corella management over a long time and this project will build on their knowledge base to work towards a state-wide management plan for little corellas."
Adam Gray, Director of Environment at the LGA says he is enthusiastic about the project.
"Little corellas affect communities across South Australia, so we are supportive of this collaborative approach, with members of the community and councils involved," Gray says.
You can find out more about little corellas and this local citizen science project here
Contact for interview: Philip Roetman office (08) 8302 1081 email philip.roetman@unisa.edu.au
Media contact: Michèle Nardelli office +61 883020966 mob 0418823673 email michele.nardelli@unisa.edu.au