Students add a splash of colour to street life
January 23 2014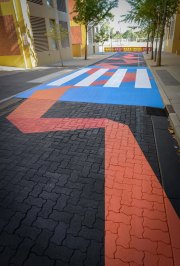 University of South Australia students are about to put paint to pavement in a street art project that is set to add vibrant colour to the West End precinct.
The special project, which starts today, is being undertaken as part of the Adelaide City Council's Splash Adelaide initiative and will see the transformation of George Street from asphalt grey to a place awash with colour, sharp shapes and a sense of vibrancy.
The brainchild of Toby Richardson UniSA lecturer in the school of art, architecture and design, the project will have echoes of similar works in France and Switzerland that have been undertaken by established young European artists, such as Sabine Lang and Daniel Baumann.
"These artists have managed to transform the typical city landscape by using colour and shape in ways that give real energy to the urban landscape," Richardson says.
"Similarly our George Street project does not plan to soften the hard edges of the environment, but enhance and embolden them with colour."
The George Street art project has attracted interested from more than 70 creative arts students at
UniSA and competition to field the final design for the work has been strong.
&nbsp The project will be unveiled to the public at a launch on February 12 2014 just as the student year begins and Adelaide comes alive with the Festival season.
UniSA Vice Chancellor Professor David Lloyd says the project represents just one aspect of the kinds of projects that build vibrant communities.
"This is a temporary artwork in the lead up to the more permanent changes that will happen to George Street and the wider Hindley Street precinct through major greening and redesign plans, but in one way that helps to give the work more edge," he says.
"It's a great project for students because it gives them a range of issues to consider – the power and influence of art in the environment, the interplay between art, architecture and design, the impermanence of art and ideas around the value of art and its power to transform environments.
"As a serious commission for our students they will consider all of these things, gain some great experience and be part of what is transforming our very urban City West campus."
City of Adelaide Lord Mayor Stephen Yarwood says the project feeds into a drive to bring more activity and visual identity to Adelaide's laneways.
"We're delighted to be working with UniSA on this project," Yarwood says.
"This will be a new style of public art for Adelaide and it is fantastic to have it led by the very people we want to encourage to become an active part of Adelaide's urban culture on a day-to-day basis.
"It promises to add colour and drama to George Street and represents the essence of what Splash Adelaide is all about – experimentation, vibrancy and engagement with the urban landscape."
Media contact: Michèle Nardelli office: 08 8302 0966 mobile: 0418 823 673 email: Michele.nardelli@unisa.edu.au