Star turn for UniSA's MBA
September 13 2013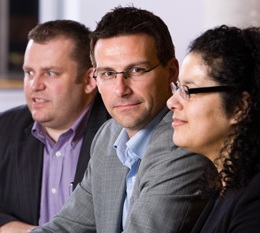 Hot on the heels of a five star rating in the Good Universities Guide for the sixth consecutive year, the University of South Australia's MBA program has climbed to fourth place in the Australian Financial Review BOSS 2013 rankings.
UniSA Pro Vice Chancellor and Head of the Business School, Professor Marie Wilson says the fact that the MBA has performed so well over a prolonged period shows a commitment to quality.
"It is clear we have a sustained commitment to quality but our improvement reflects a real commitment to innovation too," Professor Wilson says.
"That is reflected in an MBA program that is deeply connected to industry and international in its perspectives."
Head of UniSA's International Graduate School of Business Professor Mile Terziovski says the ranking meets the University's goal to build its MBA as one of the best in the nation.
"We owe our success to the quality of our teaching and our partnerships with industry and of course the quality of our students, who when they complete, become part of a network of UniSA MBAs that we like to stay close to," Professor Terziovski says.
"We have worked hard to benchmark the degree, not only with the best in Australian but also internationally, to ensure what we offer is relevant to modern professionals."
Director of UniSA's MBA, Bob Gilliver says the MBA is designed to fit the careers and lifestyle of busy executives.
He says success factors for the program are flexibility, real world learning opportunities, dedicated, quality teaching staff and opportunities to work with exciting and diverse student groups.
"The UniSA MBA is one that is built for the modern world," Gilliver says.
"It factors in that students are likely to be working and studying, that they may not be located in the same state or even the same country, but that they still want the full student experience the ability to discuss ideas learn from colleagues and engage with their teachers whenever they need to, 24-7."
More information about the UniSA MBA is available here
Media contact: Michèle Nardelli office: 08 8302 0966 mobile: 0418 823 673 email: Michele.nardelli@unisa.edu.au