Sea of gowns a symbol of graduate success
March 23 2015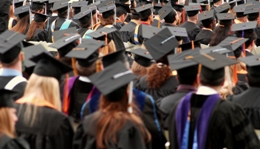 The Adelaide Convention Centre will be transformed into a sea of caps and gowns this week as 3500 students celebrate their academic success at the University of South Australia's graduation ceremonies.
The University will confer 5358 Bachelor, Master and Doctorate degrees, with just over 3500 of those 'graduands' set to attend the ceremonies at the Convention Centre from today until Friday (March 23 to 27), and then in Whyalla on April 10.
Vice Chancellor Professor David Lloyd says graduation is an important milestone in people's lives.
"Graduations are about celebrating academic success, hard work and personal milestones for each and every one of our graduating students," Prof Lloyd says.
"While graduations are special for the students on a personal level, the community should also be proud because these new graduates represent the future of ingenuity and enterprise in our state and beyond."
Among the Bachelor degree students set to cross the stage will be occupational therapist Megan Freckleton who is working at the Repatriation General Hospital at Daw Park.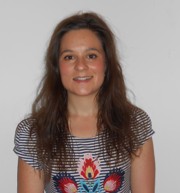 Megan says her role is to work within a medical and allied health team to ensure patients are discharged safely and with the functional ability to perform tasks that are important to them and necessary for daily life.
"I chose OT because I wanted to work with people, not just alongside them. Many of the core values of OT are similar to my own – such as the importance of participation in daily life and society," she says.
"I'm really enjoying it and I get great satisfaction in being part of a patient's journey and increasing my knowledge in some way every day.
"Many of my patients are older, and I think OT is very important for the older population as we focus on helping people restore and maintain the functions they need, so they can continue to live enriched lives within their community."
Master degree graduate Julie Sutherland is blind and will cross the stage with her white cane – a powerful symbol of her ability.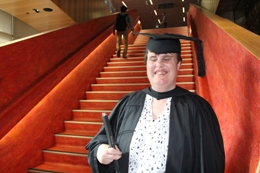 Julie has completed a Master of Management (Arts and Cultural Management) and her white cane, a screen reader, braille and mobility instruction have been keys to her success.
"I call myself disabled, not because of my eyes that don't work, but because society puts up artificial barriers. My cane, braille and JAWS screen reader (Job Access with Speech) have enabled me," says Julie, who received assistance from the Learning and Teaching Unit and Guide Dogs SA.
Out of her Master studies has come a passion for advocating for access to the arts, particularly for people living with sight or hearing impairment. She looks forward to the day when descriptive technologies are more widespread so people with vision impairment can have the expressions, movements and other nuances of theatre, cinema, parades or television conveyed through words relayed through headsets.
Julie hopes achieving a Master degree will inspire others. "Follow your dreams. Don't let anybody tell you that you can't achieve and be true to yourself," she says.
In terms of her own dreams, Julie says she "hasn't finished yet" and hopes to gain employment in the arts or tourism industries.
Doctorate graduate Toan Nguyen undertook his research on mobile communications for older people. He says his thesis topic actually arose out of working with children with disabilities.
"Seeing kids having trouble accessing communication technology made me wonder if older people experience the same challenges – particularly with the onset of impairments and declining health – and this was the starting point for my research," he says.
"Through my project I found that older people have difficulty accessing mobile communication technology because of poor design, poor instructions, and lack of training and support. They also struggle with the sheer amount of technology choice, and find it hard to select devices that meet their needs and capabilities.
"In my PhD I developed a training program which I delivered to participants aged 67 to 102 with a 100 per cent success rate. I also developed an online tool to help them select the right technology for their needs and capabilities.
"My research showed that age is not a barrier to learning new skills. Older people can successfully learn new technologies and incorporate them into their everyday lives."
Toan is now back working with Novita Children's Services as a Senior Rehabilitation Engineer and Research Officer, where his research skills and expertise on assistive technology and disability have direct professional application.
"Kids and the aged have similar technology needs – both need to access it for safety, independence and communication," he says.
Media contact: Kelly Stone office 8302 0963 mobile 0417 861 832 email Kelly.stone@unisa.edu.au