Rewarding a spirit of welcome
December 08 2014
Winners of 2014 Awards for Muslim and non-Muslim Understanding announced
Adelaide Pastor and founder of the Welcome to Australia movement, Brad Chilcott, is this year's recipient for the individual award for Muslim and non-Muslim Understanding.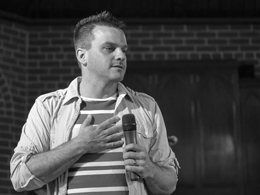 Chilcott is the lead Pastor of the Activate Community in Bowden South Australia and founded the movement locally in 2011 to foster a culture of welcome for new migrants and refugees, a culture which has now spread nationwide.
Winner of the award for an organisation which has made a contribution to the Australian community and improving relations between Muslim and non-Muslim people is the Queensland Eidfest Association.
Formed in 2005 with the aim of welcoming the wider community to celebrations marking the end of Ramadan, Eidfest is now a feature event on Brisbane's cultural calendar.
University of South Australia acting Pro Vice Chancellor for Education Arts and Social Sciences, Professor Kurt Lushington says the worthy winners of the awards are outstanding examples of how understanding can be built and nurtured.
"Brad has committed a great deal of energy and personal time to developing the Welcome to Australia movement which is now operating in six cities and has a wide and growing network of volunteers and more than 80 high profile ambassadors," Prof Lushington says.
"His dedication to bringing people of all backgrounds together and developing a positive and peaceful narrative about immigration, multiculturalism and refugees is an example to us all.
"Personally he devotes time to mentor young Muslim people in leadership, public speaking and other roles and through the Welcome Centre in Adelaide and similar programs in each state, fortnightly dinners bring together people of all faiths to share food and friendship."
Chilcott gained national media attention this year for his campaign "We'll Love Muslims for 100 Years" which brought on board more than 150 faith leaders around the nation in solidarity with the Australian Muslim community to counter growing negative media and political sentiment. He was awarded Citizen of the Year for the City of Charles Sturt this year.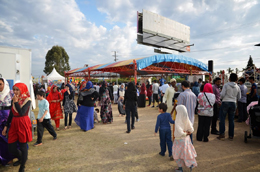 The Queensland Eidfest Association represents Muslim people in South East Queensland including hundreds of families – now fifth and sixth generation Australians - who have more than 150 year history in Australia.
Prof Lushington says the Eid festival was established in 2005 with a goal of inclusion and they have been hugely successful.
"Brisbane Eidfest held on the Saturday following the end of Ramadan is supported by both the Brisbane City Council and the State Government and attract thousands of Muslims and non-Muslims each year," he says.
"With more than 70 stall holders selling food and goods from the different and diverse cultural traditions that share the Islamic faith, the festival showcases the complexity, breadth and cultural richness of Muslim Australia.
"Boldly, the event organisers have used the festival to encourage discussion on tough topics including refugees and asylum seekers and the Israeli/Palestinian conflict and issues that are usually explored only in the most superficial ways in mainstream media such as women and Islam and Sharia Law.
"Along with the Eidfest Muslim Writers Festival established last year, the organisers are adding a deeper dimension to the festival and attracting more Muslims and non-Muslims to share in culture, celebration and conversation.
"The Queensland Eidfest is an example nationally of how to present a vehicle for cultural engagement that enhances both understanding and learning."
The third annual awards ceremony will be held at City West Campus on December 9 from 5 pm.
Previous winners of the individual awards include AFL player, Bachar Houli and filmmaker, Heather Kirkpatrick and in the organisation category the SA Muslim Women's Association and Brisbrane's Exchange Community Centre.
Media contact: Michèle Nardelli office: +61 8 8302 0966 mobile: 0418 823 673 email: michele.nardelli@unisa.edu.au