Radio project celebrates diversity and strength
November 18 2015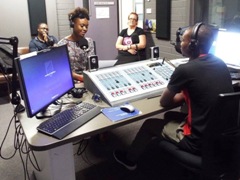 A new radio series, produced by young people of refugee background now living in Adelaide, is currently on the air, thanks to internet radio station UniCast, hosted by UniSA's School of Communication, International Studies and Languages.
Powerhouse Radio (or P-HRS for short) is a nine episode radio series being broadcast throughout November on UniCast, and podcast at the show's blogsite phrsblog.wordpress.com.
The radio series is part of a research project being conducted by the University of South Australia, and funded by the International Centre for Muslim and non-Muslim Understanding, to explore how engagement in community media can assist young people in their resettlement experience.
The young participants have led the direction of the series, choosing their own topics, talent and music to put to air each week. The shows have covered events such as the Welcome to Australia walk and the National Mosque Open Day, and a wider variety of youth, human rights, and community issues.
P-HRS team member, Daniel Shumba, says, so far, the project has been adventurous.
"Being in the studio environment, using media equipment and being on air has been exciting to me," he says.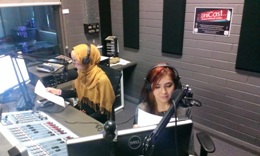 Episodes broadcast on UniCast at 7pm on Monday and Tuesday each week in November, with a repeat of both shows running from 4 to 6pm on Sundays.
There will be a special live two-hour show to finish off the radio series, following a celebration being held at the Magill campus, with many community group representatives attending to show their support.
To listen live tune to UniCast on www.unicast.com.au Mondays and Tuesdays 7 to 8pm, or the repeat program Sundays 4 to 6pm. You can also podcast the episodes and segments at https://phrsblog.wordpress.com/.
Contact for interview
Dr Heather Anderson heather.anderson@unisa.edu.au 0403672414
Daniel Shumba (participant) shumba.daniel@yahoo.com 0439891788
Media contact Kelly Stone office (08) 8302 0963 mobile 0417 861 832 email Kelly.stone@unisa.edu.au