Promotional power of the cellar door has vintage appeal
July 07 2015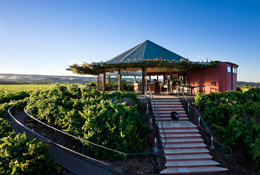 The true power of the cellar door as a catalyst to promote a winery's brand has been uncorked, with UniSA led research identifying how significant its enduring impact is on visitors and their buying habits.
The buying behaviour of more than 3,300 visitors to 79 cellar doors across Australia was recorded in what is a world-first national study of a significant wine producing country's industry by UniSA's Ehrenberg-Bass Institute.
Continuing research (over a period of 6 months) tracked how the cellar door experience had influenced change behaviour in the way cellar door visitors choose and buy wine in the off- and on-premise retail sectors.
It's been revealed that during the six-month period after a cellar door visit the buyer group (54% of all visitors) bought an average of 9.1 bottles of that winery's wine. Most importantly, 16% of cellar door visitors who had never bought the brand before began buying it after the visit and this net gain can thus be directly ascribed to the cellar door visit and experience.
A total of 47% of study participants reported an increase in the quantity of wine consumed from the region where they visited a cellar door and, in terms of reputational awareness, 83% recommended a wine from a winery to someone else within six months of their visit to the cellar door.
Lead researcher, Professor Johan Bruwer, says that while cellar door counter sales are a traditional measure of a cellar door's appeal, this research is fresh evidence of the cellar door's more significant, pivotal role in developing brand awareness, creating wine consumption behaviour change and attracting new customers.
"The question is how powerful is the effect of awareness, tasting, and overall experience at a cellar door in influencing future purchase behaviour of that brand. This project provides a measure of that impact across a significant period of time after that visit," Professor Bruwer says.
"The cellar door does something quite special, it can give the brand a good story if those who visit and taste the wine have had a good, authentic, and memorable experience. People who visit a cellar door also become more educated about the wine region and this increases the consumption of wines of that origin."
"It has long been one of industry's desires to find ways in which to influence and eventually change the consumption behaviour of Australian wine consumers. A visit to a wine region and a few cellar doors can do just that."
In a land where shed culture, rather than château culture, is more the common blend, the prominence of cellar doors in all of our wine regions is something to be valued and recognised.
"The Australian cellar door experience is world class, we are leaders in direct-to-consumer marketing," Professor Bruwer says.
Mary Hamilton, CEO, of Hugh Hamilton Wines in McLaren Vale said the research validates the cellar door experience.
"It's great to see a piece of research that affirms the importance of regional wine experiences and that at the heart of that experience are great cellar doors," Mary says.
"Cellar doors are the heart and soul of the Australian wine experience. It's where people connect with what is really going on. They get to see where the grapes are grown, touch and smell the earth, feel the seasons, taste from the source and meet the people who put their lives into their wine business.
"It is the most authentic wine experience you can have".
A total of 79 wineries across 15 wine regions in all six 'wine' states of Australia participated in the University of South Australia and Charles Sturt University study, funded by the Australian Grape and Wine Authority (AGWA).
Further details of the cellar door research project can be found here
Contact for interviews: Professor Johan Bruwer: (08) 830 20135
UniSA media contact: Media contact: Will Venn office (08) 8302 0096 email will.venn@unisa.edu.au