Pride, greed, fear, and hubris
July 22 2013
Conference explores some deadly sins in finance and investment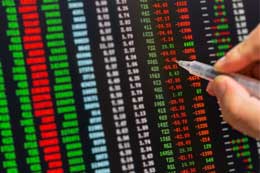 The complex world of finance: insider information, in real-time 'fast' & 'dark' trading and fluctuating capital markets can at times appear a bit like another planet, but at UniSA's Centre for Applied Financial Studies conference this year, it's our human foibles and behaviours that will be also in the spotlight.
The Behavioural Finance and Capital Markets Conference on August 1&2 will have, among other topics, a keen focus how our emotions interfere with sound financial decision making.
"Whether it is overconfidence, reckless risk-taking, the impact of social media, excessive emotions, other moods or even superstition – these behaviours can and do have an influence over investors," Petko Kalev, UniSA Professor of Finance says.
"We see it at a personal level among retail investors, but importantly in our research it is also evident in the behaviours of those who are managing many billions of dollars in the investment portfolios of superannuants and large companies."
The two-day conference will feature a keynote panel discussion moderated by Prof Kalev and featuring behavioural finance luminaries including Peter Bossaerts, formerly Caltech Professor of Finance and now a Professor at the David Eccles School of Business, University of Utah.
Prof Bossaerts work covers theoretical, empirical and experimental finance and extends to the fields of econometrics, game theory, general equilibrium theory, cognitive psychology and neurobiology.
His research asks questions about how emotions interfere with sound financial decision making, exploring issues such as financial risk-taking and addiction, genetic predisposition to sound or poor financial decision-making and other factors at the frontier of neurobiology in human financial risk-taking.
He will be joined by Professor Terry Walter, Chief Research Officer at SIRCA Limited and Professor of Finance at the University of Technology Sydney, Business School.
The panel discussion will also include Professor David Gallagher (CEO Centre for International Finance and Regulation and Professor the Australian School of Business at the UNSW), Kingsley Jones (CEO Jevons Global Ltd) and Peter Swan (AM FASSA Professor of Finance the Australian School of Business at the UNSW).
On day two of the conference Prof Walter will deliver the keynote address on the thorny issue of executive salaries and compensation contracts.
His address will argue that much of the controversy around "overpaid" executives could be averted with better design of employment contracts.
"Few stakeholders in firms would object to generous compensation for managers whose performance delivers long-term profits," Prof Walter says.
"The problems come when performance is under par. Our research into theoretical, empirical and regulatory literature has helped us to develop a set of principles that could operate as a guide to designing executive remuneration systems in all companies.
"I hope it will generate some broad debate and discussion around those principles."
The Behavioural Finance and Capital Markets Conference is presented by UniSA's Centre for Applied Financial Studies at the School of Commerce, University of South Australia Business School.
It will be held at the Rockford Hotel, 164 Hindley Street, just next door to City West campus.
A full program for the conference is available online.
News editors please note: Interview can be arranged with any of the conference participants by contacting the media contact or Prof Kalev at Petko.Kalev@unisa.edu.au or call on 0478 407 684.
Media contact: Michèle Nardelli office: 08 8302 0966 mobile: 0418 823 673 email: Michele.nardelli@unisa.edu.au