Powerful high performance partnership
June 13 2014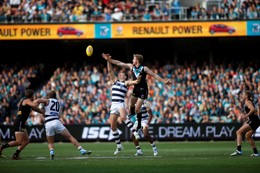 The University of South Australia and Port Adelaide Football Club have teamed up to form a high performance partnership centred on research and education in elite sport.
UniSA's Vice Chancellor Professor David Lloyd and Port Adelaide Football Club Chief Executive Officer Keith Thomas have signed a Memorandum of Understanding to establish the Port Adelaide Football Club / UniSA Centre for High Performance Sport.
Prof Lloyd says the centre will focus on collaborative sport, education and research excellence.
He says the partnership will initially concentrate on cooperative activities rather than a physical building, although shared facilities in the CBD may be explored in the future.
"Joint training and education programs and joint research programs in areas of mutual interest will be at the heart of collaborative activities in this partnership," Prof Lloyd says.
"From a research perspective, it's an exciting opportunity to turn up the volume on quality research in AFL football, particularly in the areas of optimising player performance, injury prevention and best practice for recovery.
"From an education perspective, there are already links with sports science staff at Port Adelaide Football Club completing higher research degrees at our University and teaching in our undergraduate programs, while for the players themselves this MOU may assist them to plan their careers after their time as an elite footballer has come to an end."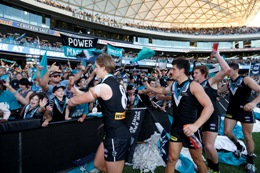 Other collaborative activities under the MOU may include the development of outreach programs for young people in disadvantaged communities in South Australia, and staff exchanges between the two parties to promote research and teaching excellence.
Prof Lloyd says he is delighted with the partnership as both the University and Port Adelaide Football Club have mutual interest and complementary expertise in high performance sport.
"The University has an established reputation and expertise in education, training and research in sport, health sciences and related fields," Prof Lloyd says.
"Similarly, the Port Adelaide Football Club has a strong track record in outstanding practice in sports science and supporting players."
Mr Thomas says this high performance partnership will build on the long-term relationship Port Adelaide has enjoyed with UniSA over the past 15 years.
"From our perspective this new, enhanced partnership with UniSA has the potential to significantly add value to our existing club high performance program led by Darren Burgess," says Thomas.
"But what is more exciting for us is that through this partnership with UniSA we believe we can also develop outreach programs that can improve school attendance and enhance academic performance in disadvantaged communities.
"Significantly, this partnership will be underpinned by a very strong commitment to high quality research which we believe will ensure the program has great substance and sustainability."
Professor of Sport and Exercise Science Roger Eston, who is Head of UniSA's School of Health Sciences and Chair of UniSA Sport, says a joint steering committee will be established to progress this exciting initiative.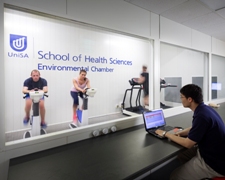 "It builds on an already successful relationship with PAFC," Prof Eston says.
Prof Eston says existing activities between UniSA and PAFC include:
UniSA's cadetship program with PAFC, which places three to five UniSA sport science students with the club each year.
The PAFC annual prize, which has been offered for the past 15 years for the best sports science student at UniSA.
Funding support and scholarships for the Aboriginal Power Cup. UniSA also created the Gavin Wanganeen Scholarship for Indigenous students.
UniSA's support for fitness testing and training of PAFC players within its City East campus environmental chamber in preparation for games in Darwin.
The PAFC Sports Science PhD Scholarship, the recipient of which has now joined PAFC as the Head of Sports Science.
Prof Eston says the School of Health Sciences has recently appointed PAFC's High Performance Manager Dr Darren Burgess as an Adjunct Research Fellow in an honorary capacity to undertake research in line with the partnership.
Prof Eston says future activities could include launching a post-graduate coach education program with a strong applied sports science element.
UniSA media contact: Kelly Stone office 8302 0963 mobile 0417 861 832 email Kelly.stone@unisa.edu.au
PAFC media contact: Daniel Norton office 8447 9969 mobile 0419 848 669 email dnorton@pafc.com.au
Port Power legend Gavin Wanganeen lent his patronage and encouragement to the establishment in 2005 of the University of South Australia Gavin Wanganeen Indigenous Scholarship. The scholarship has helped 22 Indigenous students to undertake a university degree. Find out more and donate to the Gavin Wanganeen Indigenous Scholarship.