Playing fair - inequities in sports participation
July 03 2013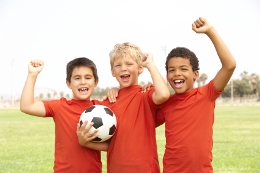 Inequities in sports participation among children will be the focus of a public forum being held at UniSA this Thursday by the Healthy Kids Research and Innovation Cluster.
Cluster program leader Lynette Kelly says the 'Playing Fair' forum will look at ways to advance sports participation to underpin children's well-being.
It will feature Equal Opportunity Commissioner Anne Gale, UniSA researchers Dr Carol Maher and Dr Edoardo Rosso, UniSA lecturer Dr Richard McGrath, and Office for Recreation and Sport Community Participation Manager Karen Fuller.
"The forum will explore the issues that affect the participation, promotion and maintenance of healthy behaviours through sports programs and initiatives," Ms Kelly says.
"It will look into how we fare as a sporting nation and how sport can enhance connectedness through our community."
Dr Carol Maher, Co-convenor of the Healthy Kids Cluster and Research Fellow from UniSA's Health and Use of Time Group, will kick off the forum with the current state of sports participation among youth from disadvantaged groups.
She will draw on data from the National Children's Nutrition and Physical Activity Survey to set the scene regarding physical activity participation among youth from a variety of backgrounds, socio-economic groups, and disability groups.
"We used data from 2071 children who took part in the survey and looked at how sport participation varied between kids who were divided into four quartiles based on household income," Dr Maher says.
"On weekends, kids from the lowest income quartile got roughly half as much sport as kids from the highest income quartile – 22 minutes a day versus 43 minutes a day. On weekdays, the discrepancy was much less, suggesting that school has an equalising effect."
Dr Maher says club sport participation is becoming increasingly expensive and out of reach for some families.
"Transport to matches is also a major barrier for low income families," she says.
"Additionally, some clubs are now requiring parents to be present throughout training sessions and matches, which can be difficult for many families, especially if they have more than one child or jobs with inflexible work hours."
Dr Maher says the value of sport is more than just being physically active.
"Sport offers the benefits of feeling part of a greater collective, learning rules and tactics, self-discipline, and social benefits of working with peers to achieve something," she says.
"The forum is focused on some novel approaches that are currently being used to assist disadvantaged kids to be involved in sport. We are also hoping that discussion arising from the seminar may lead to some new ideas and initiatives."
Karen Fuller from the Office for Recreation and Sport will share how the ORS's Community Participation team is involved in improving inclusion for groups who are under-represented in sports participation.
Equal Opportunity Commissioner Anne Gale will provide an overview of the role of the Equal Opportunity Commission and highlight some of the Commission's current initiatives focused on reducing racism in sport and connecting with the community.
Dr Richard McGrath, a UniSA lecturer in Health Sciences, will report on the Street Sport Project, a partnership with the City of Port Adelaide & Enfield aimed at creating and sustaining ongoing physical activity opportunities for youth.
UniSA Research Fellow Dr Edoardo Rosso will look at ideas for the best solution to ensure effectiveness and sustainability for participation programs, and the scope for universities to undertake a leadership role in their delivery.
The forum, 'Playing Fair: Inequities in sports participation' will be held on Thursday (July 4) at 5.30pm for a 6pm start, in the Bradley Forum, Hawke Building, City West Campus. Anyone who would like to attend should register by emailing asma.babakarkhil@unisa.edu.au
Media contact: Kelly Stone office 8302 0963 mobile 0417 861 832 email Kelly.stone@unisa.edu.au