New degree comes to grips with big data
November 08 2013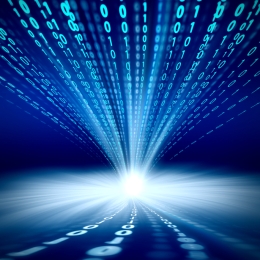 With e-commerce transactions expected to reach more than $320 billion by 2016 and more than 2.7 billion comments and likes posted on Facebook each and every day representing the tastes, views and ideas of millions, in many ways, data is the 21st century's new currency.
Analysis and understanding of what that data represents is increasingly vital for businesses, industry, governments and service providers globally.
Managing and mining big data is emerging as one of those careers we never imagined would exist just 15 years ago, that of the 'Data Scientist'.
Responding to the need for experts in big data the University of South Australia has recently launched a suite of three programs designed to equip modern professionals such as business analysts and strategists, and informatics specialists to take on the challenges in the field.
The Graduate Certificate, Graduate Diploma and Masters in Data Science are being sponsored by the world's leader in business analytics software and services, SAS and the programs will be SAS-accredited.
Head of UniSA's School of Information Technology and Mathematical Sciences, Professor Andy Koronios says the partnership with SAS will deliver vital opportunities for businesses and other organisations by developing graduates with the latest skills and education in this important field.
"Being able to analyse economic and social trends by examining a number of disparate and large datasets has applications in some vital areas including health, security, social service delivery and infrastructure planning," Prof Koronios says.
"We know that commercial operations are highly invested in using big data to help with product and service development and planning, but there are a myriad of other applications from helping to decide new catchment areas for schools, right through to understanding a population's use of over-the-counter medications or the consumption of foods."
SAS Managing Director, David Bowie says the new Data Science study options will assist in bridging the skills gap that exists for data experts.
"There is a growing unmet demand for professionals who are equipped to analyse the increasingly complex and vast amount of data that is now available to businesses and public sector agencies," Bowie says.
"This suite of programs could not come at a better time and we're very happy to be part of what is an enterprising development for the industry and the University."
Students of the new programs can choose to take on studies in usual face-to-face ways or do the degree entirely online which ensures the program can be undertaken locally or from anywhere in the world.
"We know that this suite of qualifications will be of great interest to people already out there working in full time jobs as well as new students, so we are offering as much flexibility as we can," Prof Koronios says.
"We are also emphasising the important combination of technical skills in Data Science, as well as project management, communications and visualisation skills so that our graduates can present and communicate the insights of their analysis to stakeholders effectively.
"Students of any of these programs will be learning by doing because the courses emphasise the importance of professional practice so, while they are studying, they will be working on real business projects using real data sets and using the techniques and tools that will be a part of their working life."
More information about the new data science study option at UniSA is available here
Media contact: Michèle Nardelli office: 08 8302 0966 mobile: 0418 823 673 email: Michele.nardelli@unisa.edu.au