New book shows how tourism might power peace
October 08 2013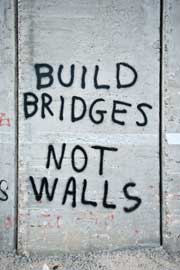 In some circles these days the only holiday worth taking is one which can be justified by its eco or social justice credibility – Do we help save the orangutans or build a house for a villager in Nepal this year honey? So what could be wrong with that?
A comprehensive new book edited by University of South Australia lecturer in tourism, Dr Freya Higgins-Desbiolle and colleague Dr Lynda-ann Blanchard from the Centre for Peace and Conflict Studies (CPACS) at University of Sydney explores that question and many more tough ones at the heart of the notion that tourism can build peace.
Entitled Peace Through Tourism, the book seeks to examine the issues of peace and tourism with more nuance than ever before, challenging assumptions about what constitutes peace and eco tourism and the view that tourism itself should only be evaluated from an economic perspective.
Using case studies and examples of different types of tourism experiences the book looks at the positive and negative impacts in the context of notions of peace, tensions between tourism as an industry and tourism as a social force and business and social science perspectives of tourism.
The authors argue that the ways tourism can promote peace are layered and diverse and must take account of concepts of justice.
"Peace in itself is a broad concept," Dr Freya Higgins-Desboilles says.
"Much more than simply the absence of armed or violent conflict, peace includes social harmony, inner or personal peace, peace with nature and even spiritual peace or peace with God.
"This has allowed us and the contributors to the book to examine the widest examples of peace tourism from yoga retreats and pilgrimages, to efforts to develop contact between Israelis and Palestinians and anti-racism education at Camp Coorong in South Australia."
What the researchers conclude is that while much of peace tourism is niched such as ecotourism, cultural tourism, pilgrimages and other forms of specialised experiences rather than impacting mass market, it is dynamic having the capacity to enhance social justice and peace outcomes or hinder them.
"When mass tourists go to Dachau or Auschwitz with the 'never again' ethos of that experience, it is an example of peace through tourism, at the same time a highly specialised tourist engagement with a reclusive tribe may in fact have an opposite outcome for people and the environment .
"What we have argued in this book is that what we need is peace with justice, a concept that engages difference and disagreement and promotes dialogue so that we can arrive a way we can live together."
Dr Freya Higgins-Desbiolles says a real strength of the book is the differing views expressed by contributors.
"The book integrates a range of perspectives from scholars from many disciplinary backgrounds, non-governmental organisations (NGOs), tourism industry operators and community, all united by an interest in critical approaches to understanding peace through tourism," she says.
"We also represent diverse geo-political contexts from the USA, India, Japan, Israel, Palestine, Kenya, the Koreas, Indonesia, East Timor and Indigenous Australia.
"Those two factors combine to give the book a diversity and richness that is somewhat unique in publications in this field."
Copies of Peace Through Tourism are available through Routledge
Media contact: Michèle Nardelli office: 08 8302 0966 mobile: 0418 823 673 email: Michele.nardelli@unisa.edu.au