New book says 'no such thing as a free lunch' for social media advertisers
October 21 2013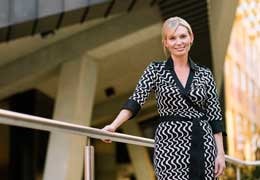 Giggling twins, dorky dancing, or cute chimps with their own pet pooches - social media opens up a world of wonder in which sharing information is as simple as a click.
These are truly exciting times for marketers. With four billion connected consumers willing to share branded content, there has never been a better time for a brand to invest in creating and distributing content.
So what companies, businesses and organisations want to know is just what is the "it" factor – what makes one thing go "viral" when another thing doesn't.
Well it is not as simple as hiring a squirrel in a tutu.
In her latest book - Viral Marketing: the Science of Sharing - Dr Karen Nelson-Field, from the University of South Australia's Ehrenberg-Bass Institute, presents results from an extensive study of over 1000 videos and years of research into the exciting world of viral video.
"We could be entering an advertising renaissance and with millions of dollars being invested in creating content, it is vital to get the methodology right too. Our research as presented in the book outlines what approaches will improve your chances of getting it right."
The book also challenges what we believe about the viral nature of sharing through social media.
"It seems that whenever a new media platform emerges marketers are quick to throw everything we know about buyer behaviour out the window," Dr Nelson-Field says.
"In the new era of 'engagement' the popular view has crowned content 'king', with most viral marketers believing that good quality content will be shared by many with no need to pay for any media.
"But in truth only those videos that are well seeded stand a chance of achieving high levels of sharing - so while great creative helps, distribution is still the key to success.
"The mistake that marketers make is the analogy drawn from biological epidemic disease - that content will spread to millions from a very small base.
"Actually in even the best examples of creative, the 'pass along' rate is a fraction of what most people think.
"So while great creative is very important, like most brands, distribution is the single largest predictor of success.
"If you start out with a small viewing space it will actually remain small. The lesson here is distribution is still King while content is Queen."
Published by Oxford University Press Viral Marketing: The Science of Sharing presents the results of two years research led by Dr Nelson-Field and carried out by a team of researchers at UniSA's Ehrenberg-Bass Institute who have studied more than 1000 videos, five different data sets, and brought together the results of nine individual studies.
The research considers multiple variables including creative, branding, emotions and distribution and it looks at both commercial and non-commercial videos as well as those with high and low sharing scores.
"Because the race to champion the new media is so great, decisions tend to be based on assumptions and guesswork," Dr Nelson-Field.
"And that's not to say that marketers are gullible, but rather they become blindsided by the possibilities the new media has to offer and reason and evidence become lower priorities."
With all the bases covered, the book is a "must read" for those working in the social media space who want to back up their recommendations with an evidence base. It takes the guesswork out of the equation.
The book has just been launched in London and New York and is available through major online retailers including Amazon or direct from Oxford University Press.
Dr Karen Nelson-Field is a Senior Research Associate at the Ehrenberg-Bass Institute, University of South Australia. She has more than 20 years experience in Fast Moving Consumer Goods, Major Retail, Media and Tourism.
Her academic research focuses on buyer behaviour in the social media context with a particular focus on understanding whether established empirical laws apply and how this impacts on the ability of social media to boost brand growth.
Book details: RRP $29.95 - ISBN: 9780195527988 -Publisher: Oxford University Press -www.MarketingScience.info @EhrenbergBass
&nbsp Media contact: Michèle Nardelli office: 08 8302 0966 mobile: 0418 823 673 email: Michele.nardelli@unisa.edu.au