Meet the Australian engineer behind private space travel
September 05 2014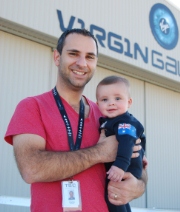 Australia has the chance to play a leading role in making suborbital space travel available to everyday people, according to the Australian engineer at the helm of Virgin Galactic's operations.
Enrico Palermo, Vice President of Operations for the Virgin Galactic subsidiary, The Spaceship Company, will discuss the latest developments in the commercial space industry at the 2014 Beyond Earth: Warren Centre Innovation Lecture being held at the University of South Australia this week.
Palermo, who is responsible for The Spaceship Company's spaceship construction program in California, says over the next few years, the space industry will experience rapid expansion in the areas of space tourism, exploration, experimentation and satellite launches. He believes Australia is well-positioned to be a part of that growth and could be a suitable location for the next spaceport.
"Australia has a number of natural advantages," Palermo says. "The climate is good, there is open space, and we have the intellectual power to build it."
Executive Director of the Warren Centre for Advanced Engineering, Ashley Brinson says the lecture will offer audiences a rare insight into the possibilities of private space travel from one of the world's leading experts in space engineering.
"This lecture is a must attend event for anyone who has wondered about private space travel, what it means to be innovative and the elements critical for success," Brinson says.
"It is great to see young Australian professionals, like Enrico, succeeding in the field of science and technology and becoming world leaders.
"The Virgin Galactic program is a revolutionary new field of space innovation that offers many lessons into a vast array of day-to-day industries from transport to material science."
UniSA Vice Chancellor Professor David Lloyd says the University is delighted to be hosting the annual Warren Centre Innovation Lecture this year.
"The successful Innovation Lecture series showcases the incredible advances being made in engineering, science and technology, and shines the spotlight on the Australians leading the charge in these fields globally," he says.
"We are privileged to have Enrico join us on campus and share his experiences, from an engineering student in Perth, to securing a leadership position in the booming commercial space industry.
"Some of the latest developments in science and technology are happening right here in Australia and it's an exciting time to be a part of it."
Prof Lloyd says, as an Australian university now ranked in the world's top 100 for Engineering and Technology, he expects UniSA will produce more than a handful of graduates making a contribution to the development of the space industry in years to come.
The lecture 'Beyond Earth', which will take place on September 9 at UniSA, is presented by The Warren Centre for Advanced Engineering, Australia's premier independent think-tank on transformative engineering issues.
Please note: The lecture is now fully booked.
UniSA Media Contact
Rosanna Galvin office (08) 8302 0578 mobile 0434 603 457 email rosanna.galvin@unisa.edu.au