Legal Advice Clinic delivers $500k in pro bono support
July 30 2013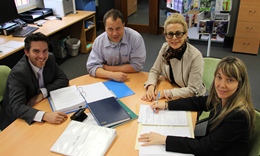 The University of South Australia's Legal Advice Clinic has provided more than $500,000 worth of pro bono legal assistance to the South Australian community since it began two years ago.
The School of Law's Professional Programs Director Rachel Spencer says this represents a significant milestone for the clinic as well as the many final-year Law students who have gained hands-on experience helping those who may otherwise have been denied access to justice.
"In just over two years, students based in the Legal Advice Clinic have assisted more than 700 South Australians to resolve legal issues in matters including consumer credit, criminal, general civil, family, employment, tenancy and debt-related issues," Ms Spencer says.
"A conservative cost analysis of the files indicates that over $500,000 worth of legal work has been done to date, using the Supreme Court scale."
The Legal Advice Clinic provides a unique practical teaching and learning environment for UniSA law students, while providing free legal advice to members of the South Australian community.
"The clinic is staffed by final-year Law students who work in pairs under the supervision of our Managing Solicitor Matthew Atkinson," Ms Spencer says.
"It gives our students a chance to put theory into practice, to work through real problems that need to be resolved and to see in reality how the law impacts on real lives.
"This is invaluable in equipping lawyers with the skills of client-centred practice and a better understanding of the role of law in society."
Ms Spencer says legal experts often talk about a large gap in legal aid and the clinic helps fill that void.
"We've also been pleased to do some work in the northern suburbs, providing community legal education to refugees and disadvantaged communities," she says.
"The clinic has produced a guilty plea brochure which has been provided to all of the Magistrates Courts in South Australia as well as other legal and justice services and this has proved to be a hit. We've had lots of positive feedback and the Elizabeth Magistrates Court has just requested another bundle."
The clinic offers free legal advice on issues as such debt claims, car accidents and faulty goods but does not provide court representation or give advice to both sides in a legal dispute. The clinic is unable to provide advice on matters of wills, power of attorney and personal injury claims and will not fund clients' costs or expenses.
The Legal Advice Clinic is located in UniSA's Law Building and is open week days. For more information and appointments go to http://www.unisa.edu.au/Business/Law/Clinic/
Contact for interview: Rachel Spencer office 8302 7946
Media contact: Kelly Stone office 8302 0963 mobile 0417 861 832 email Kelly.stone@unisa.edu.au