Hot in the city: UniSA wins $1.2m to tackle heat stress in Australian cities
June 26 2013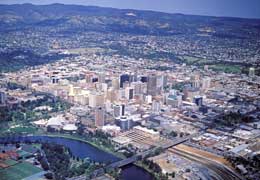 A $1.2 million research initiative led by the University of South Australia and aimed at minimizing heat stress in Australian cities, could potentially save lives as well as reduce the carbon footprint.
UniSA's Zero Waste Centre for Sustainable Design & Behaviour (sd+b) will examine urban micro climates in Sydney, Melbourne and Adelaide in a project that will span three years and bring together three universities and eight industry and government partners.
Project leader, Professor Steffen Lehman says the research is of environmental significance and will support policy formulation in urban planning and environmental management.
"Heatwaves can and do kill," Prof Lehmann says, "and as the planet warms we are going to experience more of the same.
"The heat stress that people experience in cities can be considerable, often much more intense than in less built up areas.
"We need to ask what happens in public spaces when older people and young children are not able to go out because of the heat. How do we build cities that mitigate heat stress and the storage of heat?"
Prof Lehmann says this comprehensive research project, a partnership with leading researchers at the University of New South Wales and the University of Melbourne, is the first of its kind in Australia and will further provide knowledge about the way people use public space in times of heatwaves.
"We want to develop a cross-disciplinary, multi-scale understanding of Australian cities' micro climates, by focusing on what is known as the Urban Heat Island (UHI) effect and the interplay between urban form, density, materials, surfaces and ambient temperature," he says.
"The resulting analysis of the architectural, precinct and city scales will support decision making, urban planning and environmental management in line with the sd+b Centre's aim to reduce Australia's carbon footprint."
City of Adelaide Lord Mayor Stephen Yarwood says the research project would benefit Australian cities.
"While there is a considerable body of international UHI research, this project will apply that knowledge to Australian cities and their particular issues, comparing the built environment in Sydney, Melbourne and Adelaide," the Lord Mayor says.
"We are always keen to work with the University of South Australia on relevant research that will help us to future-proof the City of Adelaide. We look forward to being involved in this exciting work."
The initiative will be launched at UniSA in September with research results being delivered to the participating government bodies and municipalities, including SA Urban Renewal Authority, BlueScope Steel, Hassell Architects, the City of Sydney, CSIRO and other key partners.
Contact: Professor Steffen Lehmann office 8302 0654 email Steffen.Lehmann@unisa.edu.au
Media contact: Will Venn office 8302 0965 email Will.Venn@unisa.edu.au