Creating connections is the key for older consumers
December 09 2014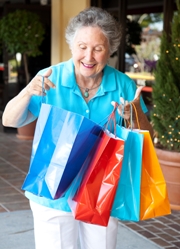 Social disconnection and lack of exposure to 'word of mouth' advice are putting the brakes on spending among older people, according to an international marketing expert.
With the busy Christmas consumer period upon us, how people aged over 65 come to spend – or not – is the focus of research led by UniSA and London-based Professor Robert East.
Prof East, an Adjunct Professor with UniSA's Ehrenberg Bass Institute for Marketing Science and an Emeritus Professor at Kingston Business School in London, says older people are traditionally more conservative than younger buyers.
"Current evidence is that in general, older people like to buy the same as last time, or something similar; or to defer purchase and soldier on with what they already have," he says.
"In the past, the common view has been that such conservative behaviour occurs because older people find it harder to make the mental effort needed for decisions and are averse to change.
"I decided to investigate and challenge that view."
Aged 74 himself, Prof East says he conducted the research to 'strike back' on behalf of his age group and uncover the real reasons why older people are traditionally more conservative than younger buyers.
Along with colleagues Professor Mark Uncles from the University of New South Wales and Professor Wendy Lomax from Kingston Business School London, Prof East conducted research into different consumer services and products bought among a range of age groups in the UK and elsewhere.
"More than 14 per cent of the Australian population is aged over 65 – and that's rapidly increasing, so it's important from both a social and marketing perspective to understand how older consumers make their purchasing decisions," Prof East says.
"The first factor we found was that over-65s receive far less consumer advice than younger people – less than half the amount.
"The reason for this is probably loss of contact with those who might give advice: retired people see less of former workmates, their children leave home, social interaction with others may become harder because of disability and, sadly, friends die.
"The second factor is that over-65s tend to retain goods and services much longer than others, indicating that they defer new and replacement purchases. This could be due to lack of money. But our analyses that took account of this showed that receiving less advice was still a major factor associated with deferred purchase."
Prof East says 'word of mouth' advice operates in two ways – it supplies shopping advice on alternative products that a consumer may not know about, and it stimulates the decision-making process so that shortcuts like buying the same brand as last time are less likely to be used.
He says the research suggests that older people are worryingly disconnected from others.
"Older people may fail to spend money on products that will help them, and Governments wanting to increase consumer spending may find it difficult to get this group to spend more," he says.
"This problem may lessen as computer-savvy consumers move into old age, since the Internet facilitates both advice and spending.
"In the meantime, we need to think of how we can create better connections between older folk and the rest of society."
The research was published in the Journal of Marketing Management.
Other 'word of mouth' research by Prof Robert East can be viewed at the UniSA Library.
Media contact: Kelly Stone office 8302 0963 mobile 0417 861 832 email Kelly.stone@unisa.edu.au