Cochlear implant research a winner in 3MT
September 09 2013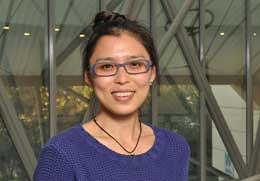 UniSA PhD student Demi Gao has summed up her research into improving the performance of cochlear implants in three succinct minutes to become the University's Three Minute Thesis (3MT) competition winner.
Demi, who is doing her PhD at the Institute for Telecommunications Research, is using mathematical techniques to predict the best possible performance of cochlear implants from a theoretical perspective.
Demi told the 3MT competition audience at Mawson Lakes campus that cochlear implants are biomedical neural prosthesis that restore or provide hearing to people who suffer from hearing loss.
"In order to provide better hearing experiences for cochlear implant recipients, significant improvements are required in cochlear implant design," she says.
"My research will help guide approaches to improving future designs of cochlear implants."
After moving to Australia from China just one year ago, Demi impressed the judges with her compelling three-minute presentation.
Paul Joyce from the Ian Wark Research Institute was the People's Choice winner with this research into developing smarter medicines. Other finalists were Zachary Anesbury and Julian Major from the School of Marketing, Gabrielle Fitzgerald from the School of Art Architecture and Design, Alex Cavallaro from the School of Engineering, Krishnaveni Venkidusamy from the Centre for Environmental Risk Assessment and Remediation, Erin McGillick from the Sansom Institute and Natasha Wilson from the School of Pharmacy and Medical Sciences.
The 3MT competition is held across the University and is open to all higher degree students. Demi will now go on to compete in the National 3MT competition in Sydney in October.
Judges of the UniSA 3MT competition were University Council member Eric Granger, Emeritus Professor Mary Barton, Bellberry Ltd CEO Imelda Lynch, and Tindo Solar Managing Director Adrian Ferraretto.
Media contact: Kelly Stone office 8302 0963 mobile 0417 861 832 email Kelly.stone@unisa.edu.au