Centre for Cancer Biology researchers awarded major national honour
March 25 2015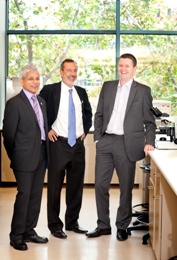 Two Professors from the Centre for Cancer Biology (CCB) (an alliance between SA Pathology and the University of South Australia) will today be elected Fellows of the Australian Academy of Health and Medical Sciences.
Professor Angel Lopez and Professor Sharad Kumar, Co-Directors of the CCB, will be inducted into the Academy today along with a number of other Fellows representing a range of disciplines in health and medical research. This follows the election of both Co-Directors as Fellows of the Australian Academy of Science in recent years.
Ken Barr, Executive Director of SA Pathology, said election to the Fellowship is a significant honour for both scientists.
"I am pleased that both Professor Lopez and Professor Kumar have been recognized for their achievements through this election," he said.
"Both have contributed tremendously to medical research throughout their careers – Professor Lopez has undertaken significant research on blood hormones and their role in blood cancers, while Professor Kumar's research has contributed to the better understanding of a number of diseases, including cancer, cardiovascular and inflammatory diseases.
"The election of two of our professors into the Australian Academy of Health and Medical Sciences highlights the outstanding quality of cancer research performed in SA Pathology."
UniSA Vice Chancellor Professor David Lloyd congratulated Professor Lopez and Professor Kumar on their election.
"Under Angel and Sharad's leadership, the CCB is making breakthrough discoveries in the fundamental causes of cancer, as well as leading personalised cancer treatments based on DNA genome sequencing," Professor Lloyd said.
Professor Lopez has an international reputation in human cytokines or growth factors, and his research has paved the way for the development of novel drugs for the treatment of usually fatal myeloid leukaemias and debilitating chronic inflammatory diseases.
UniSA's Professor Kumar has led a distinguished career in biomedical sciences, biochemistry, cell biology and cancer biology. He has received many accolades, including the 2013 Lemberg Medal – the highest honour bestowed by the Australian Society for Biochemistry and Molecular Biology.
The Australian Academy of Health and Medical Sciences was created in June 2014, and aims to promote health and medical research and its translation to enable a healthy community in Australia and the world.
Media contact: Tegan Sluggett office (08) 8222 5531 email tegan.sluggett@health.sa.gov.au
Or Kelly Stone office (08) 8302 0963 email Kelly.stone@unisa.edu.au