Around the world on a bike to raise funds for cancer research
April 16 2014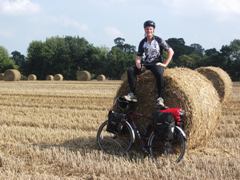 A young Australian man who has ridden 40,000 km around the world on a bike to raise funds for international cancer research will cycle into Adelaide tomorrow morning (Thursday March 17) to meet scientists at Adelaide's Centre for Cancer Biology (CCB).
Teacher Chris Gruar, 28, who is originally from Sydney, left Leeds in the north east of England in March 2012, on a world cycling expedition to raise money for Worldwide Cancer Research (formerly the Association for International Cancer Research). He is aiming to raise $30,000 for WCR in memory of his mother who died of cancer.
Gruar says cancer is a global concern requiring a global response.
"I chose to raise money for WCR as a charity which funds groundbreaking cancer research throughout the world," he says.
"You only live once, so I set out to see what one man on a bicycle could accomplish. I'm relishing the opportunity to return to Australia and spread the word about the crucial projects being funded by WCR."
The CCB – an alliance between the University of South Australia and SA Pathology – studies the fundamental causes of cancer in order to find new ways to prevent and treat it.
CCB Co-Director Professor Sharad Kumar says his team of scientists will be delighted to welcome Gruar and hear about his exciting journey, which has covered more than 40 countries including Germany, Norway, Croatia, Kazakhstan, Kosovo, Uzbekistan, Kyrgyzstan, China and Vietnam.
"We really admire the fact Chris has gone to such lengths to raise awareness about cancer," Prof Kumar says.
"Three of our scientists have recently been funded by WCR to undertake cancer research projects so Chris will be able to meet with them and hear about how their work is helping in the fight against cancer."
Dr Cameron Bracken from the CCB's Gene Regulation Laboratory is researching how cancer spreads throughout the body.
"One of the main factors that makes tumours so dangerous is their ability to invade into surrounding tissues and organs, known as metastasis," Dr Bracken says.
"Individual cancer cells squeeze between the normal cells nearby and push their way through the tissue. They are then carried in the blood stream and can form new tumours in other parts of the body, known as secondary tumours or metastases. Around 90 per cent of deaths associated with solid tumours are caused by secondary tumours. So it's really important to fully understand how metastasis occurs."
He will investigate how micro-RNAs, which are small molecules that help control genes by acting as 'off-switches', are involved in one of the main ways cancer cells move throughout the body, called Epithelial-Mesenchymal Transition.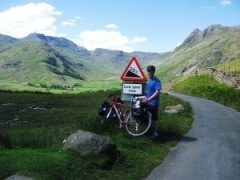 Dr Joanna Woodcock from the CCB's Molecular Signalling Laboratory is researching leukaemia cells.
She has identified a pathway in one type of leukaemia which is over-active and may be responsible for the cancerous state of these cells. She found that fatty molecules called sphingolipids can interfere with the activity on a key component of this pathway, a protein called 14-3-3.
"We are testing the effect of new molecules that resemble sphingolipids on leukaemia cells to find out if they could form the basis of a new anti-leukaemia drug," she says.
Dr Loretta Dorstyn from CCB's Molecular Regulation Laboratory is studying how a cell death protease works as a break for some cancer. Her work focuses on finding the mechanistic link between caspase-2 and tumour suppression.
Gruar arrives at the CCB tomorrow, after landing on Australian soil at the end of February and cycling from Darwin to Alice Springs and then onto Adelaide. He will then ride from Adelaide to Melbourne, Canberra and then into Sydney where his journey will end at the University of Sydney.
Read more about Gruar's self-funded journey at http://cycling4cancer.wordpress.com/
Media note: Chris Gruar will arrive at the Centre for Cancer Biology at 10.30am on Thursday April 17. He will meet with CCB staff, tour CCB labs, and show highlights from his around the world bike ride until approximately 11.45am. Media are welcome to attend.
Media contact: Kelly Stone office 8302 0963 mobile 0417 861 832 email Kelly.Stone@unisa.edu.au
Or WCR Head of Communications Beverley Hart via email on beverley.hart@aicr.org.uk