Announcement: UniSA extends term of appointment for Vice Chancellor Professor David Lloyd
May 14 2015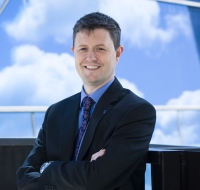 University of South Australia Chancellor, Dr Ian Gould, today confirmed that the University has extended the contract of Vice Chancellor, Professor David Lloyd, until 2022.
Making the announcement, Dr Gould said that Prof Lloyd had initiated an exciting period of fundamental transformation and renewal at UniSA that has reinvigorated the campus experience for students and significantly expanded international research and industry partnerships.
"During a period of significant external higher education policy uncertainty, David has brought a bold new vision and vigour to the University and we are delighted that he has agreed to make a long-term commitment to the change process outlined in our strategic action plan, Crossing the Horizon," Dr Gould said.
"Strong and creative leadership in the higher education sector has never been more required and David has provided this from the creation of unijam - the university 'first', co-creation, international planning brainstorm - to the commencement of a new, ambitious student and partner focused capital plan."
Dr Gould said Prof Lloyd's determination to challenge the status quo and forge new relationships and endeavours since his appointment in 2013, was a leadership quality much respected in the institution and the wider community in South Australia and beyond.
"David is a modern-day enterprising leader who continues a tradition of outstanding UniSA leadership that focuses every day on embracing change and demonstrating the University's relevance in educating first-rate professionals and in connecting with communities and industries," Dr Gould said.
Prof Lloyd said that when he brought his young family to live in Adelaide he immediately knew this would be his home for some time and that leading the evolution of UniSA was a uniquely fortunate opportunity.
"I said at the time of my appointment that I knew I had inherited a University in good shape but one that was ready for new challenges," he said. That is what the journey so far has been all about – how to make good, great for our students and our partners.
"UniSA is an exciting example of how a modern and enterprising university should be – how it should be forever young in spirit – and I'm looking forward to the coming years in this role where I have the great fortune to steer its course for the future," said Prof Lloyd.
Media contact: Michèle Nardelli office: +61 8 8302 0966 mobile: 0418 823 673 email: michele.nardelli@unisa.edu.au