Academy role for engineering science leader at UniSA
October 17 2013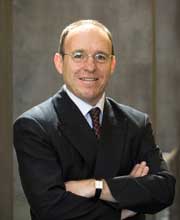 University of South Australia Pro Vice Chancellor for the Division of IT Engineering and the Environment and leading materials scientist, Professor Rob Short has been elected as a Fellow of the Australian Academy of Technological Sciences and Engineering (ATSE).
The prestigious appointment will see Prof Short contribute to the national research conversation on smart technologies and innovations.
Appointed as Pro Vice Chancellor at UniSA earlier this year, Prof Short has a stellar track record in basic research and research innovation and leadership.
In February he successfully won a bid to lead the Australian Cell Therapy Manufacturing CRC, a $59M million project to deliver affordable and accessible cell therapies and position Australia at the leading edge of cell therapy manufacture.
In its announcement of his appointment to ATSE, the Academy said Prof Short had "exploited outstanding new science to develop products with profound impacts on human health and wealth creation".
Prof Short pioneered the deposition of polymer coatings from electrically-excited gases for use in medical devices. He has founded two successful spin-out companies and overseen the development of six commercially successful, patent-protected products.
As foundation director of UniSA's Mawson Institute he has established a world class research hub in advanced materials science for manufacturing and biotechnology.
UniSA Vice Chancellor Professor David Lloyd says the great honour of being elected to the Academy is a reflection of Prof Short's capacity to lead at all levels.
"This honour goes to great innovators and great achievers – people who lead in science but also who take the lead in imagining how that science can improve our lives and then build the capacity to make that happen," Prof Lloyd says.
"It reflects his excellence and his enterprise as a research leader and UniSA is justly proud of him and his achievement."
Prof Short says he is deeply honoured to have been elected to the Academy at this time in his career.
"This is probably the highest honour you can achieve in your career so I am delighted to have been acknowledged in this way and at this stage.
"I hope to make a valuable contribution to the Academy."
ATSE is made up of some of Australia's leading thinkers in technology and engineering.
It is a diverse group, drawn from academia, government, industry and research, each focused on how to apply technologies in smart, strategic ways to bring about social, environmental and economic benefits.
New Fellows are nominated by existing fellows and are subsequently elected by ballot of the serving ATSE Fellows.
Media contact: Michèle Nardelli office: 08 8302 0966 mobile: 0418 823 673 email: Michele.nardelli@unisa.edu.au