ARC and industry back UniSA research
June 28 2013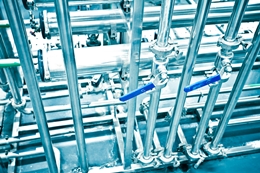 More than $8 million in funding from the Australian Research Council (ARC) and industry partners will support new research at the University of South Australia to help to deliver solutions and improve productivity.
Twelve projects funded under the ARC's Linkage Project scheme will improve agriculture and the environment, water quality, teacher retention, mining productivity, road safety, diversity and safety in the workplace and better transitions to retirement for older Australians.
The overall government support of $2.8 million is matched with funding and in-kind support from a wide range of industry and business partners.
University of South Australia Vice Chancellor Professor David Lloyd says the ARC Linkage grant success represents a real vote of confidence in the capacity and calibre of UniSA's research teams.
"These grants really showcase the vital role universities play in Australia in helping business and industry to innovate, solve problems and make productivity gains," Prof Lloyd says.
"It is the partnerships universities like UniSA forge with industries that are the nation's research and development mainstay."
Deputy Vice Chancellor Research and Innovation, Professor Richard Head, said he was delighted with the outcome of the latest round of funding.
"UniSA has a strong and long tradition of research in this space, which is often in collaboration with other universities, and characterised by researchers who are passionate about how their discoveries can be of real benefit to society," he said.
"Securing funding is done in strong competition with others around the country so I congratulate our researchers, not only on their success, but on the hard work it takes to develop their plans and proposals."
UniSA's project success rate under the scheme was 46.3 per cent, well above the national average of 39 per cent.
A full list of the lead researchers and their projects follows:
Prof Maureen Dollard has secured funding for a project to develop a system to model the physical and psychological stress for health care workers in Australia and Malaysia addressing the growing pressures on workforce planning in this industry.
Prof Nico Voelcker and his team will work to develop electrochemical sensors as early screening tools to assess water quality. The work will support the water industry with early detention of pollutants.
Prof Andrea Guerson will lead research into the long term management of acid rock and tailings drainage mitigation at exhausted or old mines. The research will explore long term approaches to protecting communities by optimising the effectiveness of microbial and geochemical multi-barriers.
Prof Bruce Johnson will lead two successful projects in education. The first will explore what young people think should be taught in school-based sexuality education programs. The aim of the project is to inform a redesign of these programs and promote sexual health for the next generation of Australians.
His second grant is to explore how school leaders and managers can develop strategies to retain high quality and early career teachers in the school system to help stop the trend of losing teachers from the educations system.
Prof Guy Robinson will lead a team to explore how the threat of bushfires in areas at the urban fringe is restricting conservation policy. The project will examine community attitudes and concerns and provide recommendations that ensure fire risk is balanced against the need for conservation and biodiversity.
Prof Alex Grant has support for a project to refine and add features to a system that will allow cars to wirelessly share the position on the road and warn drivers of unsafe conditions. With car manufacturers trialling such systems the research will help perfect and improve the technology and deliver greater safety on our roads.
Prof Anthony Finn will lead a project to develop technology to improve the effectiveness of unmanned aerial vehicles in delivering important data. Researchers will use the sound of a small robotic aircraft to visualise a complex array of atmospheric properties in 3D. Known as 3D atmospheric acoustic tomography, the research will improve our understanding of atmospheric dynamics and meteorological phenomena.
Prof Barbara Pocock and her team will explore how Australian women and men can retire well, taking account of their key resources - work, superannuation, the aged pension, and other assets - and key demands - to work longer and to care for others in the context of an aging population and a more feminised workforce. The multi-method, multi-disciplinary study will investigate how people plan towards, or experience, retirement amidst diverse, gendered resources and demands, considering implications for gender equality and health. The findings will have wide implications for policy action in workplaces, superannuation and other relevant institutions to improve gender equality and health outcomes through Australia's retirement system.
Dr Milena Ginic-Markovic will be working to create next generation coatings for membrane and metal surfaces in the dairy industry. The new coatings will provide high levels of resistance to fouling and significantly reduce operational costs in the industry.
Prof Enzo Lombi's team will respond to the growing global problem of soil zinc deficiency and consequent declining crop yields by developing a new class of fertiliser. Using chemistry techniques, knowledge of plant pathology and nanomaterial manufacture they plan to design a fertiliser that will enhance agronomic efficiency and environmental safety.
Prof Carol Kulik from the Centre for Human Resource Management will investigate workforce diversity and how organisations can manage it more effectively. The project will focus on how organisations can change their processes around diversity and, as a result, experience higher productivity and employee engagement.
Media contact: Michèle Nardelli office: 08 8302 0966 mobile: 0418 823 673 email: Michele.nardelli@unisa.edu.au