UniSA wins accolades for innovative real world teaching
September 26 2012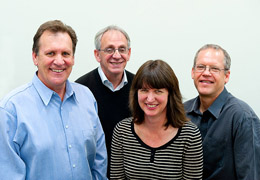 Staff at the University of South Australia have won three citations for their commitment to innovative and exciting teaching in the Government Office for Teaching and Learning's 2012 Citations for Outstanding Contributions to Student Learning.
Congratulating the winners, UniSA's Acting Deputy Vice Chancellor: Academic, Professor Pal Ahluwalia, says the citations highlight the level of commitment and innovation UniSA lecturers have to ensuring students graduate with the best chances for employment.
"UniSA has the best graduate outcomes for employment in the State and that is, in no small part, due to the quality of our teaching and our commitment to offering experience-based learning as a core part of a UniSA education," Professor Ahluwalia.
"The citation winners are great examples of teachers with the dedication to make learning relevant for their students in their future careers and who are passionate about delivering learning that is engaging and inspiring."
Citation winners include a team from the School of Health Sciences, Dr Ian Edwards, Gisela van Kessel and Mark Jones with support from practicing psychologist Michael Gordon for their work in developing a new framework for final year physiotherapy students to learn about the ethical challenges they may face in a modern working context.
UniSA lecturer Dr Ian Edwards says the team is delighted to receive the citation.
"It is one thing to teach students about a broad and static code of practice - that is an important part of their learning - but this new model ensures they can develop a thoughtful response when ethical issues arise in the workplace, one that moves beyond what the code proscribes," Dr Edwards says.
"In the internet age we have a range of new issues coming up – things such as maintaining the integrity of work social media sites, or dealing with patients who demand treatment options they have looked at on the internet, that are not actually evidence-based.
"The model for teaching ethics in the course helps our students to meet those challenges as soon as they enter professional practice."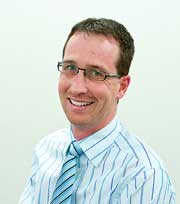 Dr Michael Ward (pictured right), from UniSA's School of Pharmacy and Medical Sciences received a citation for helping pharmacy students make the leap from the hard science of pharmacy and drug development to understanding how to communicate with patients so that they get the best possible medicinal treatments for their individual needs.
"Our graduates really need to be able to communicate at a very high level both in listening to patients and talking to them about medicines, their side effects, and their benefits," he says.
"We focus on building those skills and helping students build not only a very strong knowledge of medicines but also a great sensitivity to patient needs."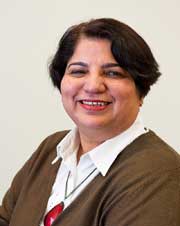 Vivien Chanana (picture right), from UniSA's School of Marketing received a citation for her sustained and consistent commitment to enhancing the experience for first year marketing students, including the use of innovative teaching methods.
Chanana says she is honoured to receive the citation, which recognises her constant effort in encouraging student participation, improving student engagement, and providing individual support.
"For me an effective teacher applies a scientific approach, is passionate, knowledgeable, sincere, enthusiastic, and has empathy for the students," she says.
"I encourage active interaction with the students both within my lectures and outside because it has a strong association with a host of positive student outcomes, such as student retention, academic achievement, critical thinking and educational aspiration."
Prof Ahluwalia says the teaching and learning achievements will be celebrated at an Office for Teaching and Learning presentation ceremony on October 4 and at the annual UniSA Celebration of Teaching Awards lunch in November.
Further information about the awards is available on the Office for Teaching and Learning website.
Media contact: Michele Nardelli office (08) 8302 0966 mobile 0418 823 673 email Michele.nardelli@unisa.edu.au