Forum heralds UniSA's continuing commitment to recognition
May 25 2012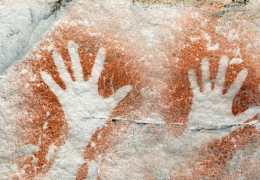 In its 21st birthday year, the University of South Australia is again placing the spotlight on the issues that matter for Indigenous Australians, consistent with a strong tradition of recognition for our First People.
A key public event focusing on these issues, to be hosted by UniSA, is a forum on May 30 entitled 'Knowing the Impact – Count Me In: Constitutional Recognition of Aboriginal People' to be chaired by former Premier of South Australia, Dr Lynn Arnold AO.
The event will feature panel members, the Hon Robyn Layton AO (2012 South Australian of the Year), Ms Khatija Thomas (Commissioner for Aboriginal Engagement) and Professor Peter Buckskin (Co-chair of Reconciliation South Australia and Dean: Indigenous Scholarship, Engagement and Research at UniSA).
In keeping with the theme of National Reconciliation Week 2012 - Let's talk about Recognition - the forum provides an opportunity for all Australians to learn more about our Constitution, how it relates to Indigenous Australians, and how reforms might support recognition for our First People.
It will highlight the recommendations delivered earlier this year by an expert panel appointed by Prime Minister, Julia Gillard, to examine options relating to the formal constitutional recognition of Indigenous people as the First Australians.
It will also focus on the changes that have arisen and the challenges that remain for Aboriginal and Torres Strait Islander people since the overwhelming referendum vote that was recorded 45 years ago, on May 27, 1967.
Professor Peter Buckskin, UniSA's inaugural Dean of Indigenous Scholarship, Engagement and Research says UniSA has a proud tradition of empowering Indigenous Australians.
"Our University was the first in Australia to issue a Statement of Commitment to Australian Reconciliation in 1997, and our David Unaipon College of Indigenous Education and Research traces its roots back to 1973, making it the oldest Aboriginal and Torres Strait Islander education program in the nation," Prof Buckskin said.
"Reconciliation Week is a time to celebrate the rich cultural heritage of the Aboriginal and Torres Strait Islander peoples as the descendants of humanity's oldest living culture, but also an opportunity to build better understanding through both through public education and engagement.
"The week is a significant marker for us – it encourages us to reflect on the relationship our nation has with First Australians, and to build an aspiration for a fairer Australia so that the First Australians do not remain the last Australians on every social indicator."
UniSA's Deputy Vice Chancellor and Vice President: Adademic, Professor Joanne Wright, said the University remained strongly committed to a vital, ongoing role in closing the gap between Indigenous and non-Indigenous Australians.
"As places of learning and knowledge creation, universities have a moral and ethical responsibility to deliver on the reconciliation agenda, and at UniSA we take that responsibility very seriously," Prof Wright said.
"We are committed to the achievement of reconciliation, and to the role education plays in empowering individuals and also in building the body of Indigenous scholarship and knowledge in our society, so that it is acknowledged and valued as it should be.
"As part of our campus culture and among our students, we also seek to build even greater understanding and engagement between Indigenous and non-Indigenous groups so that the next generation can deliver a more harmonious and respectful society."
In addition to the key public forum, UniSA will celebrate National Reconciliation Week with lunchtime events on all four of its metropolitan campuses for staff and students. The events will be held between 11am and 2pm at Mawson Lakes, Monday 28 May (GP Courtyard); Magill, Tuesday 29 May (Outside of Aroma); City West, Wednesday 30 May (Between Hawke Building and BH building) and City East, Thursday 31 May (The Plaza).
Media contact: Michèle Nardelli office (08) 8302 0966 mobile 0418 823 673 email michele.nardelli@unisa.edu.au