A challenge for leadership, UniSA asks - where to for South Australian business?
October 24 2012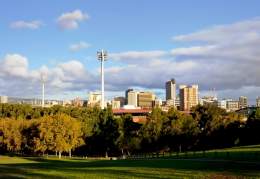 On the brink of the US Presidential election, in a year where Greece's national debt almost sank the nation and its place in the EU, at a time when the fire has waned in the Chinese economy – how will South Australia fare and what will it take to maintain smooth economic sailing?
The University of South Australia Business School is bringing together the State's top business leaders to explore the way ahead – the opportunities and challenges for SA.
The UniSA CEO Business Symposium, a one-day event open to all business leaders will be staged at the InterContinental Hotel, Adelaide on November 1. The symposium will include a keynote address from the Premier of South Australia, Jay Weatherill, at 12 noon.
Host for the symposium UniSA Business School Pro Vice Chancellor and Vice President, Professor Gerry Griffin says it is the right time to look at the future for business in South Australia.
"In a world where global trends quickly have local reverberations, it is timely for our business leaders to take stock and think about future directions," Prof Griffin says.
"It is too easy to get stuck on high profile setbacks such as Olympic Dam and forget about the myriad of other industries that are making progress."
Prof Griffin says the symposium is an important opportunity for leaders to define a bigger picture for South Australia and see how collaborations and synergies can assist in the longer term.
The CEO symposium will feature key areas for discussion including energy and mining; infrastructure; food, wine and tourism; and defence.
It brings together top CEOs including David Knox, Santos; Rod Hook, Department of Planning, Transport and Infrastructure, Commissioner of Highways, and SA Coordinator General; John Angove AM, Angove Family Winemakers; and Steve Ludlam ASC Pty Ltd, who will be leading the discussion and Bruce Carter, consultant and former Chairman of the SA Economic Development Board who will provide the closing address.
"This an important event for leaders and senior managers interested in the opportunities and challenges that lie ahead for our state," Prof Griffin says.
"We know it will encourage thoughtful discussion and fruitful networking among CEOs and with leaders across government, education and the research and development sectors."
Participants can register for the full day; the morning session, including the Premier's lunchtime address, or the afternoon session.
Media contact: Michèle Nardelli office: 08 8302 0966 mobile: 0418 823 673 email: michele.nardelli@unisa.edu.au