UniSA honours AFL legend, Adam Goodes
April 24 2019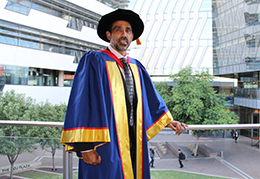 AFL legend Adam Goodes is a sporting hero and role model, but it's the work he's done off the field to empower Aboriginal youth that is making an ongoing impact and is being recognised today.
The 2014 Australian of the Year will be awarded an honorary doctorate by the University of South Australia this afternoon, recognising Goodes' human rights advocacy, his ongoing fight against racism and the support he gives young Aboriginal people.
Goodes, who was inducted into the Sydney Swans Hall of Fame last month, is an Adnyamathanha man who has spent time working with troubled Aboriginal youth, including those in detention centres.
In 2009 he founded the Goodes O'Loughlin (GO Foundation) with his cousin and former Sydney Swans teammate, Michael O'Loughlin, to create opportunities for Aboriginal youth through education, including university scholarships with UniSA.
In 2016, the University of South Australia and the Indigenous Defence Consortium, led by Goodes, signed a formal collaboration to support business and educational opportunities in the defence industries for new generations of Aboriginal leaders.
UniSA Vice Chancellor Professor David Lloyd paid credit to Goodes' career, "on and off the field".
"His record on the sporting field speaks for itself, but it's the work that Adam has done since his retirement which is empowering Aboriginal youth to change their lives," Prof Lloyd says.
Goodes was made Australian of the Year in 2014 for his work to combat racism, both on the sporting field and within society. He retired in 2015 after an 18-year career, playing a club record 372 games for the Swans, including two premierships and three Bob Skilton Medals.
Goodes will receive his honorary doctorate at a ceremony in Pridham Hall at 3pm.
Media contact: Michele Nardelli office +61 8 8302 0966 mobile: +61 418 823 673
email: michele.nardelli@unisa.edu.au