Innovative SA residential developer honoured
April 18 2019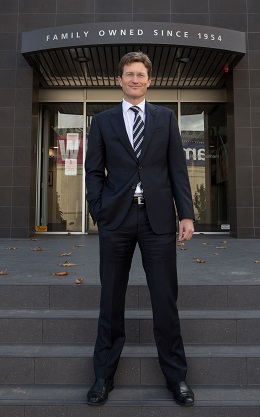 Michael Hickinbotham,director of the Hickinbotham Group, will receive a UniSA honorary doctorate today in recognition of his immense contribution to South Australia across 25 years of innovative, sustainable building development.
The Hickinbotham Group was founded in 1954 by Michael's father, Alan, and has since grown to be SA's largest residential construction firm, establishing a reputation as one of Australia's most innovative, sustainably-minded developers.
The company was the first to place power and telephone lines underground, restrict tree felling on developments, and, in partnership with the CSIRO, pioneered stormwater harvesting designs for new estates, establishing official Australian standards in the process. Hickinbotham were also the first developer in Australia to introduce architect-designed, 7.5-star energy-rated homes for the volume market.
More recently, the Hickinbotham Group has signed an agreement with Tesla to explore the deployment of solar batteries in future residential developments and is refining plans that would allow the company to take an entire housing estate 'off grid'.
Outside residential development, the Hickinbotham Group has been a strong supporter of education in SA.
In the 1980s, when the State government couldn't afford to build a much-needed primary school, the company privately funded the development and then leased the school back to government on community-oriented terms.
The group was also a key investor in UniSA's Experimental Therapeutics Laboratory, launched in 2015.
The laboratory now benefits from state-of-the-art equipment and has enabled UniSA researchers to work on vaccines for conditions such as mosquito-borne Chikungunya virus, peanut allergy, prostate cancer and melanoma.
UniSA Vice-Chancellor, Professor David Lloyd, says Michael Hickinbotham's commitment to innovative practices aimed at benefiting society perfectly reflects UniSA's own ideals.
"Michael has proven the value of viewing challenges as an opportunity, rather than a problem. He has guided his company towards finding better ways to do things, and in doing so, has proven that what is good for society and the environment can also be the foundation of a great business," Prof Lloyd says.
News editors please note: Michael Hickinbotham will be awarded his honorary doctorate at the 3 pm graduations ceremony today. About 3500 students will graduate from the University of South Australia in April in ceremonies from April 16 to 26. The University will award seven honorary doctorates, name two University Fellows and award three Emeritus Professorships.
UniSA media contact: Dan Lander +61 408 882 809 email: dan.landeri@unisa.edu.au