Hoodie Culture a winner for Aboriginal artist
July 12 2019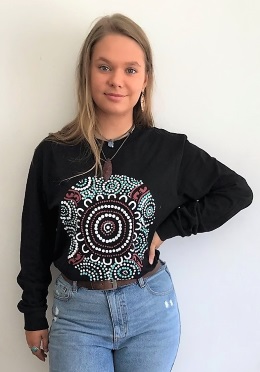 For young Adnyamathanha, Narungga and Yarliyandi woman, Iteka UkarlamSanderson-Bromley, being the designer of the star hoodie for the Australian Indigenous Mentoring Experience (AIME) 2019 National Hoodie Day, is a privilege.
Iteka has been involved with the highly successful mentoring program through the UniSA AIME chapter and says since she joined the program in her early teens, it has been a huge influence on her journey through high school and on to university.
AIME matches Aboriginal high school students with university student mentors who help them to develop their education and life goals and their confidence.
"I started with AIME at UniSA in year nine and loved it," Iteka says.
"I went back every month, right through to year 12. It made a big impact on me, it helped me to reach my goals."
Today, Iteka is a Bachelor of Arts student at Adelaide University with a keen interest in pursuing anthropology and ultimately working with youth and young offenders.
The eighteen-year-old continues to be inspired by her culture, country, her family and strong Aboriginal leaders including those from the past such as David Unaipon, Judy Watson Napangardi and Vincent Lingiari and contemporary role models like Deborah Mailman and Rachel Perkins.
"All of these people are strong leaders and advocates for our culture and I find incredible inspiration in their example, not only for my art but for my life in general," she says.
She believes her art, the creativity that won her pride of place on this year's AIME Hoodie, is inspired by her own story.
"Anyone can be an artist, all that's needed is a story to tell and a passion to share that story," she says.
"All of my art has a story and meaning to me – but for this design, AIME wanted something that focused on the particular values of unity and kindness.
"My AIME experience actually really helped motivate my design because unity and kindness is what I felt when I was part of the program."
Iteka's design uses water as a unifying thread with the front of the hoodie featuring the four compass points connected by water to each other and the land. The design also features one circle representing the globe about also unity and strength through wholeness and connection.
The reverse side features water, flowing through the land to the seas, symbolising that like water, kindness flows in us all.
"I wanted to show that one small act of kindness creates a ripple effect, spreading from one person to the next and that when many individual acts of kindness are unified, we can change the world," she says.
AIME National Hoodie Day on the July 12 is inspired by the theme of NAIDOC, a week that celebrates the history, culture and achievements of Aboriginal and Torres Strait Islander people.
This year's theme is Voice, Treaty and Truth.
UniSA has partnered with the AIME program since September 2012 and in that time almost 1000 UniSA university students have become involved as mentors.
Founder of AIME, Jack Manning Bancroft was awarded an honorary doctorate from the University in 2016 to acknowledge his enormous contribution to closing the education gap for young Aboriginal Australians.
UniSA media contact: Michèle Nardelli phone: +61 418 823 673 or +61 8 83020966 email: michele.nardelli@unisa.edu.au