UniSA graduations – making a difference on a global scale
December 19 2018
In the University of South Australia's final graduation ceremonies for 2018 on Thursday December 20, almost 600 students from around the world will cross the stage at Pridham Hall to celebrate their hard work in earning everything from a bachelor's degree to their Master's or PhD.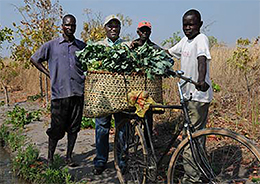 The two ceremonies being held on December 20 will see graduates from all divisions at the University cross the stage – in fields such as education, arts, engineering, sciences, health sciences, nursing and business - and will include eight PhD graduates.
UniSA Vice Chancellor, Professor David Lloyd says the graduation ceremonies are very special for international students because they mark the completion of one of the biggest personal and financial investments they will make and the start of their journey to careers.
"There is naturally a deal of pride in success born from that huge step to travel to another country, live without family, friends and all things familiar, and complete a degree," Prof Lloyd says.
"It is no mean feat and it is often a huge investment for international students.
"What you see at these graduations is deep happiness and a lot of family pride."
UniSA has graduates in more than 134 countries around the world. The December graduations will include students mainly from China, India, Malaysia, Hong Kong, Vietnam, Kenya, Nepal, Saudi Arabia, Indonesia and the Philippines.
But among the 600, will be a group of Australia Awards Scholarship (AAS) graduates from PNG, East Timor, Indonesia Malawi and Zambia. Rolin says the significance of education for AAS scholars is enormous.
"The skills our AAS alumni take back to their countries, change lives, improve communities and give people, in often marginalised communities, a chance to transform industries, schools, or policy back home," he says.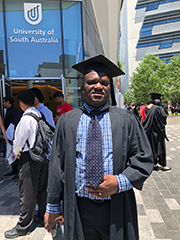 Graduating with a Master of Environmental Science (water management), is Alex L. Kabwe (pictured right), from Zambia, a country plagued by water supply and water pollution issues.
"The scholarship I received could not have come at a better time because skills and knowledge in water management are urgently required by the Ministry of Agriculture in Zambia," Kabwe says.
"Zambia's rainfall pattern is from late November to late April. During the rainfall season, farmers cultivate crops that should be enough to sustain household food security and a surplus crop to sell to supplement household income."
He says the potential to improve on rainfall-dependent subsistence level farming is huge in Zambia because soils are good and there are abundant sources of water in the region.
Kabwe's skills in water management systems will play and important role in delivering fact-based, sustainable and diversified agriculture programs and projects to the country, through the development of irrigation.
With his new role as Principal Irrigation Engineer in Hydraulic Structures at the Ministry of Agriculture's Technical Services Branch – and with specialist knowledge and understanding acquired through his Master's program at UniSA – Kabwe is incredibly positive about Zambia's and his own future.
Media contact: Michèle Nardelli mobile 0418 823 673 email michele.nardelli@unisa.edu.au
Visit the UniSA Media Centre - Follow us on @UniSAnewsroom