West End architectural pioneer made a UniSA Fellow
April 10 2018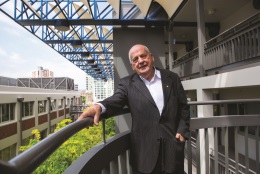 Celebrated Australian architect and designer of the original UniSA City West campus, Guy Maron, will be made a fellow of the University of South Australia this week during UniSA's April graduations.
The award acknowledges his significant career contribution to Australian architecture, his innovation and his major role in the foundation of UniSA's City West campus.
UniSA Vice Chancellor Professor David Lloyd says Maron's design for City West, selected in a national competition, was quite revolutionary for its time.

"What is impressive about his work, is his capacity to capture the spirit of the place and space he is working in and deliver buildings that function as they should, whether that be the inspiring Botanic Gardens Bicentennial Conservatory or the egalitarian, energy-efficient teaching spaces that made up the original footprint of City West," Prof Lloyd says.

"Guy's work is ambitious and enterprising, reflecting his character as an architect and, as a leading educator of Australian architects, it is fitting that this University welcomes him as a Fellow."

Guy Maron says the awarding of an Honorary Fellow from the University of South Australia is significant.

"I am extremely proud to receive this award from a University that I have made a deep personal investment in through the design and construction of City West at a time when developing the West End of Adelaide was still a rather adventurous idea," Maron says.

"I am deeply appreciative of this award."

Born in Jakarta of French parents, Maron arrived in the mid-50s in Sydney where he studied architecture at the University of New South Wales.

He was mentored by leading Australian modernist Harry Seidler before moving to North America where he lived and studied for four years.

Moving to Adelaide in 1972, he became a principal in the firm Cheesman, Doley, Neighbour and Raffen.

Maron's career took off in the late 1980s and he completed his most famous building, the Bicentennial Conservatory, in the Adelaide Botanic Gardens, in 1989, which went on to win 10 national as well as international design awards, including the BHP Architecture of the Decade Award.

He also designed the Mount Lofty Lookout in the Adelaide Hills.

The Conservatory, along with the Maron-designed Australian Automobile Association building in Braddon, Canberra, are now two of the youngest constructions to receive heritage status in Australia.

Maron is a Life Fellow of the Royal Australian Institute of Architects and a foundation Member of the Australian Academy of Design. In 2000 he was presented with the Order of Australia for his contribution to contemporary architecture. He has also been awarded the President's Medal of the Australian Institute of Architects, is the only SA winner of a Robin Boyd National Award and recipient of two Sir Zelman Cowan Awards and three Enduring Awards from the Australian Institute of Architects.

Guy Maron will receive his award on April 12 at the 10.30 am graduation ceremony at Pridham Hall, City West campus.



Media contact: Michèle Nardelli mobile 0418 823 673 email