UniSA ascendant in QS world rankings
June 07 2018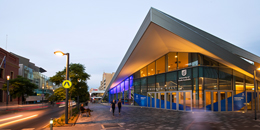 The University of South Australia has continued to rise in world university rankings, this year placed at 264 in the Quacquarelli Symonds (QS) rankings, in an even larger pool of 1011 assessed institutions globally.
Since 2014, UniSA has moved up 77 places in the QS rankings and UniSA Vice Chancellor, Professor David Lloyd says the achievement is in no small part due to a determined effort to improve its research, its international outlook, its engagement with industry and its teaching and learning.
"I am very pleased to see that citations have increased dramatically, with research from UniSA academics cited at almost double the median for the assessed group – this really reflects the growing value of our research internationally," Prof Lloyd says.
"We are also earning a reputation for the diversity of our faculty and the strength that comes from the international experience and perspectives they bring to the education we provide at UniSA.
"This is a week of rankings and we are pleased with our improvement in the European-based U-Multirank measures too, which offer a more diverse assessment approach.
"In those rankings we have improved overall, with particularly 'good grades' in areas that reflect our commitment to industry engagement, such as the income from private sources and external research income indicators.
"In this assessment we are the leading SA institution in the Interdisciplinary publications and patents awarded indicators.
"We also do very well in the indicators that measure our core focus of teaching and learning."
Prof Lloyd says this big jump in the QS rankings, the strong performance in the U-Multirank assessment, coupled with another rise in UniSA's standing in the Times Higher Education's world's top young universities to 26, is a confident sign that UniSA is realising its ambitions as one of Australia's leading universities.
"These rankings independently highlight our upwards trajectory and through what they measure, reflect our attributes as an institution – enterprising, committed to excellence and engagement and one of Australia's most exciting and successful universities," Prof Lloyd says.
Media contact: Michèle Nardelli mobile 0418 823 673 email Michele.nardelli@unisa.edu.au