Spirit of enterprise strengthens UniSA's THE rankings
September 27 2018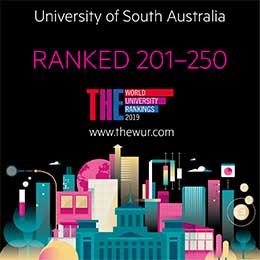 The University of South Australia is now one of Australia's top universities for income derived from industry partnerships, according to the Times Higher Education 2018-2019 University World Rankings, highlighting its commitment to solutions-focused research.
In an increased pool of more than 1,300 global universities, UniSA is now placed in the world's top 250 and ranked 10th in Australia overall.
UniSA Vice Chancellor Professor David Lloyd says the University continues its upward trend, with strong improvements in the number of citations university research receives and the strength and quality of its research, and a consistently strong result for its international outlook.
"These improvements reflect a continued growth in the depth and quality of UniSA research but also our enterprising approach to working with industry to support their development and growth, leading to the kind of innovation that has an impact in the wider world," Prof Lloyd says.
"Universities have an invaluable role to play in a rapidly changing world.
"Part of that role is providing students with an excellent and relevant education, built on theory and practice in equal measure, and the other is deploying the wealth of knowledge our researchers have, to find solutions for society's challenges.
"UniSA has always believed in partnering with industry to do just that and today, we work with thousands of partners here in Australian and worldwide to support everything from the development of more reliable and affordable vaccines for critical diseases, or safer, more accurate cancer detection, right through to improving the energy-capturing capacity of heliostats or discovering new contamination remediation treatments for polluted soils.
"Much of this research across health and health care, education, mining and minerals, defence, data management, the environment and the community, is delivered with industry and supports their success and progress while at the same time, discovering new knowledge and improving our societies."
Prof Lloyd says he is delighted to see the hard work and enterprising spirit of UniSA's dedicated and talented researchers reflected in the rankings.
"It is always great to see improvements in performance measures, but one of the real measures of our success is in the high-quality work we do in our research and the vital spirit of collaboration that our researchers have to work on solutions that both build understanding and make a critical difference to industries globally," he says.
Media contact: Michèle Nardelli mobile 0418 823 673 email michele.nardelli@unisa.edu.au