Champion of renewable energy awarded Honorary Doctorate at UniSA
April 11 2018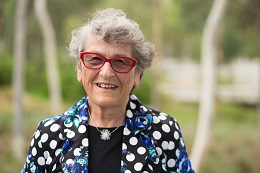 Energy research scientist, Adjunct Associate Professor Monica Oliphant AO, will be awarded an Honorary Doctorate from the University of South Australia today, recognising her career contribution to environmental sustainability and to research and education in renewable energy and energy efficiency.
Assoc Prof Oliphant is an adjunct at UniSA and runs her own consultancy, Monica Oliphant Research Scientist specialising in residential energy efficiency and renewable energy.
She graduated with a master's degree in physics from the University of London and worked for almost 20 years as an energy research scientist for the Electricity Trust of South Australia.
Vice Chancellor at UniSA, Professor David Lloyd says Prof Oliphant's contribution has been impressive both locally and globally.
"In the 1980s Monica spearheaded research at ETSA into wind power, laying the groundwork for successful wind energy innovation and investment," Prof Lloyd says.
"In her capacity as President of the International Solar Energy Society from 2008 to 2009 and as a Board member today, she continues to spread the news around the world about the highly successful practical and experimental research projects in South Australia that are keenly focussed on renewables and sustainable living."
In Australia Assoc Prof Oliphant has been active on major federal and state government committees including Australia's Mandatory Renewal Energy Target Review which heralded the first rebates to householders installing solar panels.
She received an AO in the 2015 Queen's Birthday Honours List and was named Senior South Australian of the Tear in 2016, in recognition of her research and education activities in renewable energy.
"Some people have the skills and intellect to tackle important issues but never make a commitment to making a difference. And then there is someone like Monica, who has looked at the sense and the science and made it her career passion to explore and educate about how we can live more sustainably on the planet," Prof Lloyd says.
"We are very proud to recognise her important contribution with this award."
Media contact: Candy Gibson mobile 0434 605 142 email candy.gibson@unisa.edu.au