UniSA's Prof Lorimer Moseley earns a Doctor of Science
March 31 2017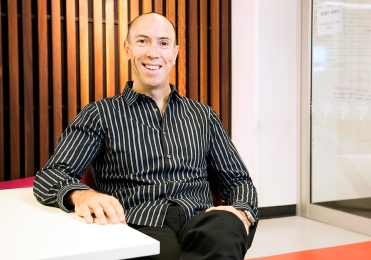 The University of South Australia will present Professor Lorimer Moseley with a Doctor of Science on March 31, acknowledging his distinguished international contribution to physiotherapy and clinical neuroscience.
The degree is awarded to an academic who has a proven record of internationally recognised scholarship and is assessed by an international panel of experts.
UniSA Vice Chancellor, Professor David Lloyd says he is delighted and proud to be presenting such a distinguished award to one of UniSA's most enthusiastic and innovative health researchers.
"Lorimer's passion for his research work into chronic pain and pain management is palpable," Prof Lloyd says.
"Not only has he pursued his research with deep commitment, he has also invested an enormous amount of energy in sharing his knowledge and being a part of an international community of researchers, determined to improve pain treatment in revolutionary ways.
"Foundation Chair in Physiotherapy at UniSA and head of the Body in Mind Research Group, he is at the leading edge in pain theory globally, with 260 scientific articles, five books and many book chapters on pain and rehabilitation under his belt.
"His work has changed the way pain is treated and changed the way we teach health professionals to support and treat sufferers of chronic pain.
"Fuelled by research and discovery and a deep empathy for pain sufferers, Lorimer is keen to share his knowledge. He has presented at more than 60 international conferences in 30 countries and delivered public lectures to more than 25,000 people in Australia, Europe and the US.
"When Lorimer talks about starting a revolution in pain management, you know he has the ability and the determination to make that happen. I am delighted to honour his contribution to science and look forward to seeing how he will change the outlook for people who live with pain."
Prof Moseley made the transition from clinical practice in sport's physiotherapy and pain management, back into academia when he undertook a PhD at Sydney University.
He moved to Queensland to take up a post-doctoral fellowship and then won the highly prized Nuffield Medical Research Fellowship at the Department of Physiology at Oxford University, where he investigated the role of the brain and mind in chronic pain disorders.
Prof Moseley was the recipient of the National Health and Medical Research Council's Marshall and Warren Award for Innovation and Potential transformation, the International Association for the Study of Pain Award for Outstanding Clinical Science, and in 2014 was given the Australian Physiotherapy Association's highest award when he was made an Honoured Member.
He joined UniSA in 2011 where his cutting-edge research is informing new generations of physiotherapists and their professional practice.
News editors please note: Professor Moseley and a team of pain researchers will be cycling from Melbourne to Adelaide on April 3 – 9 to raise awareness about chronic pain research in regional Australia – see more here.
Media contact: Michèle Nardelli mobile 0418 823 673 email michele.nardelli@unisa.edu.au