UniSA spin-out, Myriota, named best new business at Telstra 2017 SA Business Awards
July 12 2017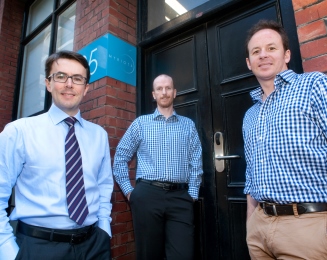 South Australian Internet of Things (IoT) company, Myriota, born out of advanced technologies developed at UniSA's Institute for Telecommunications Research, has taken out the New Business award at this year's South Australian Telstra Business Awards.
Using low earth orbiting satellites, Myriota is revolutionising IoT communications, with its low cost, long battery life, satellite solutions across a wide range of industries from defence to agriculture.
The company was formed in 2015 with backing from UniSA Ventures and Canadian maritime tracking company, exactEarth Ltd - allowing full commercialisation of the technology.
Myriota's revolutionary technology combines low cost, long battery life, micro transmitters with small (20cm x 20cm) low earth orbit satellites to communicate over very narrow bandwidths. It is this complete direct-to-orbit communications platform that enables global IoT connectivity at a cost base not achievable by any other platform.
Dr Alex Grant, Chief Executive Officer of Myriota, innovator and former researcher at UniSA says the acknowledgement from Telstra is fantastic.
"We are proud of our R&D origins at UniSA and the Institute for Telecommunications Research. The ground-breaking technology developed there has led to our low cost global IoT connectivity platform," Dr Grant said.
"This award from Telstra shows we are turning award winning technology into an award winning business – and that is a good thing for continued economic development in this state.
"We have successful deployments in the field now, and to see the business evolve from an idea at a university research institute, into a ground breaking communications solution, is very satisfying."
Myriota's technology is being deployed across a wide range of industries that need cost effective remote communications for IoT applications. Myriota is actively engaged with companies across agriculture, defence, the environment, maritime, transport and logistics, mining and utilities monitoring.
Media contact: Michèle Nardelli mobile 0418 823 673 email michele.nardelli@unisa.edu.au
Myriota contact: Tom Rayner mobile +61 419 863 719 email tom.rayner@myriota.com