UniSA professor wins Telstra Business Women's Award for her work in child protection
October 18 2017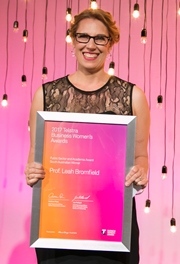 Professor Leah Bromfield, co-director of the University of South Australia's Australian Centre for Child Protection and one of Australia's foremost child protection researchers, has been awarded the Public Sector and Academia Award at the 2017 Telstra South Australian Business Women's Awards.
Prof Bromfield was one of three UniSA researchers who were the finalists in that award category, with Associate Professor Rachel Kennedy of UniSA's Ehrenberg-Bass Institute and Lee Martinez, Department of Rural Health, Whyalla, being the other nominees.
Prof Bromfield says dealing regularly with the mistreatment of children helps her stay focused on the overall goal of her team's research – to inform real change in policy and practice around child safety.
She is a research expert in issues affecting child protection systems, chronic maltreatment and cumulative harm and has worked closely with state, national and international governments on establishing and implementing child welfare reforms, including the National Framework for Protecting Australia's Children.
Prof Bromfield was also the Professorial Fellow to the Royal Commission into Institutional Responses to Child Sexual Abuse, established by the Australian Government and led its extensive research program.
In her acceptance speech, Prof Bromfield told the audience that a quarter of all South Australian children are reported in relation to child protection by age 10.
"When the problem you face is this critical, you need to approach it as a business to grow and support high functioning teams to undertake this important work," she said. "My teams are producing world-class research that is leading change in policy and practice in child protection."
A passionate advocate for modern working women and women in leadership, Prof Bromfield said she was completely "astounded to be surrounded by so many inspiring and talented women".
"Winning this award, an award for women, it's significant to me, because these awards are about more than just success - it also matters how we went about that success and what you've overcome to get here."
The Telstra Business Women's Awards celebrate the achievements of extraordinary business women, shining a light on women's achievement as business leaders.
Media contact: Georgia Minarelli mobile: +61 413 314 726 email: georgia.minarelli@unisa.edu.au