Quirky things to do with your kids in the school holidays - 1. Be part of a science experiment!
November 30 2017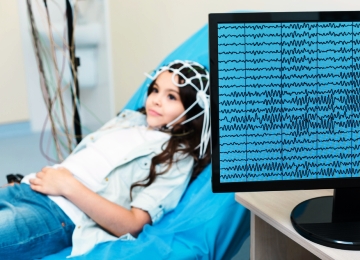 With school holidays just around the corner, parents may be searching for interesting, educational activities their children can take part in, rather than being bored and restless at home.
If this sounds like you, why not introduce your child to science by taking part in an experiment?
UniSA neuroscience researchers are launching a study that will investigate the connection between home environment, brain activity and thinking and learning outcomes in children aged 6 to 10 years.
Previous research shows that faster 'alpha wave' electrical activity predicts intelligence in adults.
PhD researcher Kate Riggall and a team from UniSA's Centre for Cognitive and Systems Neuroscience want to see if this is also true for children.
"The alpha rhythm seems to be a kind of 'brain activity fingerprint'," Riggall says.
"I want to figure out if we can use this 'fingerprint' to examine developing intelligence in children.
"This could be our window into the workings of healthy growing brains and it could help us discover what kinds of support our children most need to nurture their cognitive development, so that every child can reach their true potential in the classroom, and in life.
"We know that child development and learning is hugely significant in predicting life outcomes such as employment, health and well-being for adults, so anything we can do to support children at this age will have long-lasting benefits for both the individual and our society."
Kids who take part in the study will get to see science in action, 'listen' to their brain waves, and do some fun and challenging thinking and learning activities.
They will also receive a brain science themed show bag to take home at the end. Parents will get a snapshot of their child's performance and a chance to get their kids away from the TV for a day.
The researchers will record the children's brain at rest and during the thinking tasks using a non-invasive electroencephalography (EEG) 'thinking cap'.
Parents will be asked to complete a questionnaire about their child's health to determine eligibility for the study, and those whose children are selected will be asked to fill in a few more online questionnaires about their child and family, all of which remain confidential. Researchers will book an appointment for a repeat testing session 12 months after the first visit.
The target group for the study are children who are native English speakers, have not experienced learning difficulties, and are between 6 & 9 years old at the first testing date.
The sessions will be held at UniSA's Mawson Lakes or Magill campuses, or at participating schools, and will take 3 to 3.5 hours.
Participants will also receive a $100 gift voucher to compensate for time and travel costs.
For more information about the Healthy Brain Development study and UniSA's Centre for Cognitive and Systems Neuroscience, or if your child (or your school) would like to participate, contact Kate Riggall (kate.riggall@mymail.unisa.edu.au)

Media contact: Michèle Nardelli mobile 0418 823 673 email michele.nardelli@unisa.edu.au