Project Space Balloon
January 19 2017
T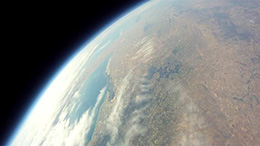 his Sunday 22 January 36 participants in the Southern Hemisphere Space Studies Program will be launching two helium balloons with special student built satellite payloads into the stratosphere over the Adelaide region.
The students from 11 nations will simultaneously send helium balloons to an altitude of 35 kilometres (115,000 ft) above both McLaren Vale and Mount Barker, live stream vision from the flights and then recover the satellite payloads to analyse the data.
The Southern Hemisphere Space Studies Program (SH-SSP) was launched in January 2011 by the University of South Australia in partnership with the International Space University and the "satellite" payloads have been designed, built and tested by this year's program participants.
The launch event on Sunday is co-hosted by the International Space University, the University of South Australia and Defence SA.
Chair of the Space Industry Association of Australia and the SH-SSP Management Committee, Michael Davis, says small satellites have opened up unprecedented opportunities in space research and business, allowing the emergence of new and dynamic economies of scale possible on small, rather than large, budgets.
"The payloads will capture and downlink images of surrounding areas that will be viewed live from the McLaren Vale launch site," Michael says.
"In addition, a packet of Serafino grape seeds will be carried on each balloon for the flight and these "Space Seeds" after exposure to extremely low pressure and very low temperatures will then be planted at the Serafino Winery.
"A competition to name the payloads is also being run, with the winner receiving a mission patch flown into space on the balloon."
Adjunct Professor at UniSA and ISU, Associate Professor David Bruce, says the two high altitude balloon payloads will simulate a small constellation of Earth observation satellites.
"The payloads will collect visible and infrared images that will be transmitted to ground stations with new tele-communications technology called WENET, developed by the Amateur Radio Experimenters Group (AREG) and staff from UniSA," Prof Bruce says.
"The participants will then process the imagery from both payloads to enhance agriculture crops, particularly vines, and display the results in near real time."
Program details:
0930 At McLaren Vale – pre-launch commentary on the assembly of the payloads and balloon prior to launch
1000 (or thereabouts) simultaneous balloon launches from Mount Barker High School and
Serafino Winery at McLaren Vale
1030 Mount Barker team and guests travel to McLaren Vale
1100 Participants and invited guests move to reception room at Serafino for presentations and tracking the flights on a video screen
Details for Live Web Streaming:
Images will be broadcast live from the balloons to the following Facebook link
Websites:
www.shssp.education
www.unisa.edu/spaceprogram
www.isunet.edu
Social Media Handles
#ISU
#SHSSP17
Southern Hemisphere Space Studies Program Media Team Contact Details:
Jessica Todd
MOB: 0437 300 947
Email: jessica.todd@community.isunet.edu
Lawrence Trevor
MOB: 0415 371 851
Email: lawrence.trevor@community.isunet.edu
Michael Davis
MOB: 0419 170251
Email: mdavis@spacelaw.com.au
Media contact: Katrina McLachlan mobile: +61 414972537 email: katrina.mclachlan@unisa.edu.au