New UniSA partnership puts patient-centred care at the heart of the QEH
November 24 2017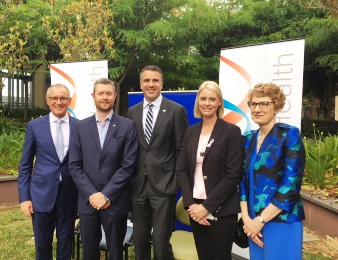 In a new partnership signed today, the University of South Australia and Health SA's Central Adelaide Local Health Network, will be working together to ensure the new-look Queen Elizabeth University Hospital is at the forefront of innovative practice.
An MOU between UniSA and the State Government underpins plans to increase collaboration across research and practice between the hospital and the University.
UniSA Vice Chancellor Professor David Lloyd says the partnership promises to deliver South Australians high quality patient-centred care, informed by the latest university research.
"As Australia's University of Enterprise, we're delighted to be a part of this important partnership with the QEH which has a long history of excellence as a research and teaching hospital," Prof Lloyd says.
"The new relationship provides more important opportunities for team-based training of future health care professionals.
"UniSA is the State's largest tertiary education provider in areas such as physiotherapy, podiatry, occupational therapy, exercise physiology, medical imaging, nutrition, pharmacy and nursing and the agreement will offer more opportunities for health students to gain vital experience of clinical and care environments.
"That means we will graduate health care workers that are completely conversant with the realities of professional practice. It also means the quality of care at the Queen Elizabeth University Hospital will be at the forefront of innovative practice, where interdisciplinary and patient-centred practice is the standard."
The agreement for Queen Elizabeth University Hospital is part of the State Government's $270 million redevelopment of the hospital.
Media contact: Michèle Nardelli mobile 0418 823 673 email michele.nardelli@unisa.edu.au