Global research and industry collaboration tackling the challenge of energy storage
April 11 2017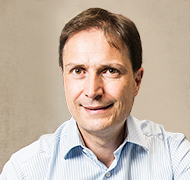 The University of South Australia has been awarded close to $1m from the Australia-India Strategic Research Fund to develop a commercialised renewable energy driven cooling technology integrated with energy storage for the refrigeration of raw milk.
The Australia-India Strategic Research Fund (AISRF) supports Australian researchers from public and private sectors to participate with Indian scientists in leading-edge scientific research projects that help to build links between Australia's and India's top universities, research institutions and the end users of scientific innovation.
Thermal Energy Storage Group Leader within UniSA's Barbara Hardy Institute, Professor Frank Bruno says by reducing energy costs and lowering spoilage of milk during storage, the novel energy storage technology will offer a financially attractive refrigeration solution for both the Australian and Indian dairy industries.
"It has been estimated that due to a lack of reliable and low cost electricity for refrigeration in rural India, 12 per cent of milk is spoilt before it reaches the pasteurisation facilities," Prof Bruno says.
"This project aims to develop a solar-driven refrigeration system integrated with phase change material for both energy storage and rapid cooling, which will maximise milk shelf life as well as minimise refrigeration running costs with few or no fossil fuel requirements.
"With our Indian partners we will develop an understanding of how rapid freezing using phase change materials affects the microbe level throughout the raw milk supply chain, and how it can be used to reduce milk spoilage."
University of South Australia Vice Chancellor, Professor David Lloyd congratulated lead researcher Professor Frank Bruno and his team describing the project as an excellent example of the commitment UniSA researchers have to finding solutions for the big social and industry challenges of our times.
"This joint research project with SMC College of Dairy Science at Anand Agricultural University and Amul Dairy will advance our knowledge of thermal energy storage technology, heat transfer and the ability of this technology to improve the shelf life of milk," Prof Lloyd says.
"Not only will our researchers be tackling a global challenge, they will also be creating opportunities for the Australian economy.
"Energy storage plays a vital role in achieving a reliable energy supply, so having UniSA and Anand Agricultural University researchers, working together, with our industry partners, to investigate the use of clean energy with thermal energy storage provides the opportunity to help solve this global economic problem."
UniSA Deputy Vice Chancellor of Research and Innovation, Professor Tanya Monro, says Professor Bruno's research is a potential gamechanger for the Indian dairy industry and a wonderful example of UniSA research having impact on a global scale.
"By harnessing the talents of a diverse range of researchers through powerful academic and industry collaborations across the globe, this UniSA led research project will be aiming to tackle a significant real world challenge in a sustainable way," Prof Monro says.
"Through industry partners, Glaciem Cooling, there is also a clear path of commercialisation for the Enhancing Dairy Milk Shelf Life with Phase Change Material Thermal Energy Storage and Renewable Energy research project."
As part of this project a demonstration system will also be built and adapted for chilling centres in Indian and Australian dairies.
"Thermal storage technology based on phase change materials developed at UniSA has already been commercialised by our Australian industry partner, Glaciem Cooling Technologies," Prof Bruno says.
"This project will modify this technology and demonstrate that it can be used to both store renewable energy as well as meet the requirements to reduce milk spoilage.
"Glaciem's recent relocation of their research and development operations to UniSA's Mawson Lakes Campus has facilitated closer interaction between their employees and our researchers. It has also led to new opportunities for us to build on technology we have developed across other research projects."
Media contact: Katrina McLachlan mobile: +61 414972537 email: katrina.mclachlan@unisa.edu.au